Summary
As India heads into an election, we expect equity markets to be volatile in the short term. The showing of the BJP, the current ruling party, could have a significant impact on the markets' risk premia. How will India fare post-election? What are some of the key factors in play?
In our experience, election outcomes have had a limited impact on the long-term trajectory of the economy and growth. In this article, we highlight some of the key factors affecting India and why the country will remain a key market for equity investors.
India going into election
The first thing you notice when you land in any Indian city is the massive road work construction taking place in almost every part – road widening, metro construction and the building of flyovers. The second thing is the large number of skyscrapers under construction, especially in the suburban parts of Mumbai and Bangalore. And lastly, people are hooked on their mobile phones, watching videos.
What is surprising is the lack of discourse about the upcoming elections. Only when quizzed do the locals offer an opinion. All the taxi drivers I spoke with want to vote for Prime Minister Narendra Modi and a common theme is that "we have given so much time to Congress, we have to give him at least a 10-year term." They are more worried about traffic than elections, but happy that something is finally getting done on infrastructure.
One taxi driver I met who has been working in Mumbai for the last 40 years, but hails from Uttar Pradesh (UP), raved about the work done by the Modi/Yogi/BJP government in UP – roads, safety for women and ease of doing business, whether its sending money home or opening a bank account. Unfortunately, development doesn't win votes in India, but castes do – he told me that he is a Rajput and will only vote for a Rajput!
Stock markets do react to election results, and it will be a volatile period leading up to the elections. This could be an opportunity to buy into good management at reasonable valuations. Whatever the results, the reform process will continue and more importantly – as one taxi driver said, "What madam, what Modi, what Gandhi, anyone comes, I have to earn here and live here." Life, the stock market and politics will go on despite elections and post-elections. Bottom-up idea generation will be key.
Key drivers of India's Economy
India is the sixth-largest economy globally in terms of nominal GDP and the third largest on a purchasing power parity (PPP) basis. Since economic liberalisation was introduced in 1991, India has achieved an average GDP growth of 6-7% and the economy has transformed remarkably. The economic profile has been changing and moved substantially in favour of services and away from agriculture. Services now account for 59% of GDP and we expect this proportion to grow. From being a US$500 billion economy in 2000, India's GDP grew over 4x by 2017, making it one of the fastest growing in the world.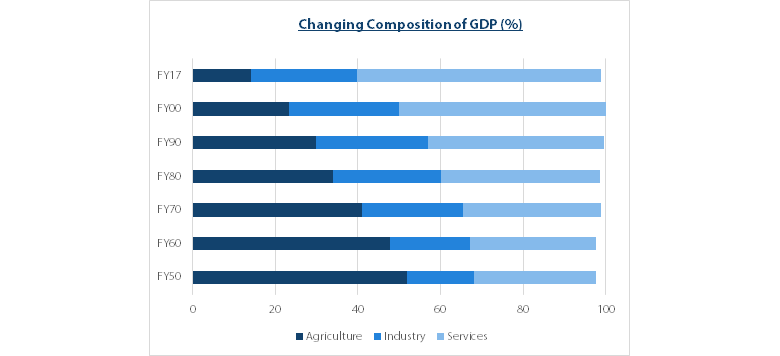 Source: Kotak Institutional Equities
There are four key factors driving our long-term positive view on India.
1. Demographic potential
a. Rising aspirations leading to rising consumption
Most people know that India has a large population, but it also has by far the largest young population globally. More than 50% of the population is under the age of 25. In the next decade, about 133 million Indians will be of working age, which will create multiplier effects across the economy.
Projection of India's demographics


Source: United Nations Development Programme
This favourable demographic and rising urbanisation will drive a consumption boom in various categories for years to come. Currently the per capita consumption rates for most categories is extremely low. For example, the global average for refrigerators is at 85%, while India is at 22%. In washing machines, the penetration rate is at 10%, while for TVs it is at 60%. Growth in some of categories has been very strong in the last few years. Despite that, the penetration levels in these categories is still quite low.
Over the past 10 years, the number of mobile phones has increased from around 3 million to around 360 million, a CAGR of 70%. And 15 years ago, only one in three Indian households had a bank account. Now nearly all Indian households have one.
India's per capita income is at an inflection point and is expected to double in the next six years. Higher per capita income, along with premiumisation will drive strong growth in everything from cars, to cosmetics to travel.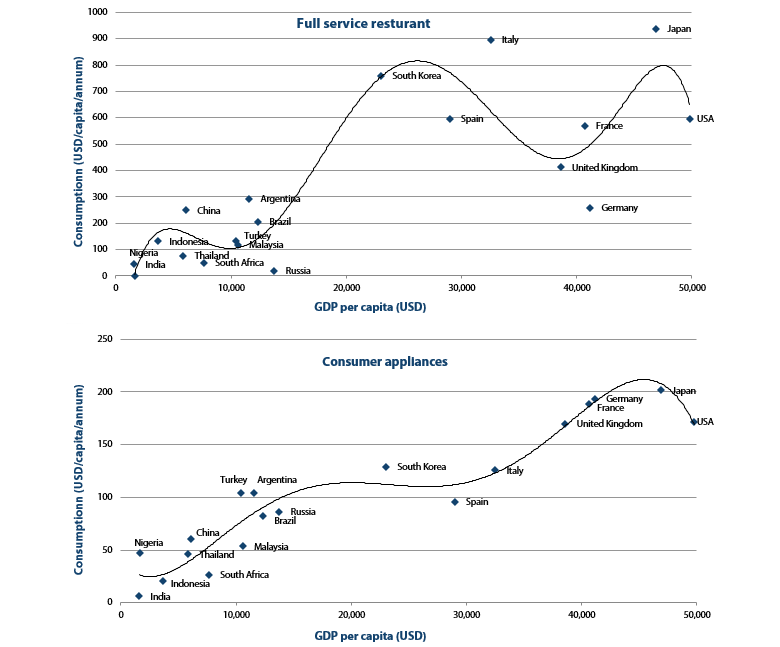 Source: Euromonitor
b. Land of many India's
India is extremely diverse, not just in terms of people and their customs, but also in terms of income, education and the male-female ratio. The state of Maharashtra has a population as large as Japan, but its per capita income is comparable to Vietnam. While Uttar Pradesh, a large populous state, has a population similar to that of Brazil and a per capita income of Nepal.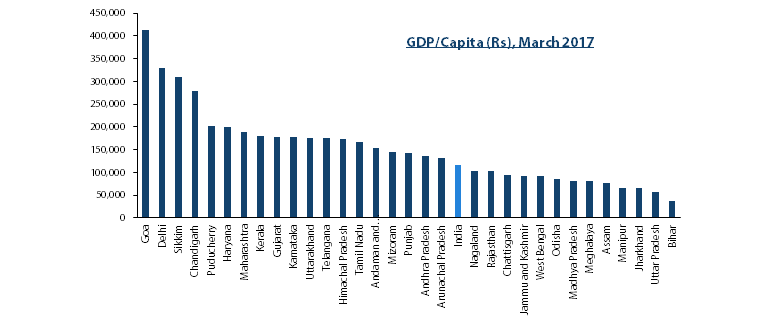 Source: Kotak Institutional Equities
Some parts of India have progressed far better than others and this has been driven by a focus on social and physical infrastructure, and better governance standards by individual state governments. As governance in some of the weaker parts of the country improves, we expect growth rates to improve in those states. Also, various parts of the economy are growing at different rates and as the weaker states exhibit better growth, overall economic growth will be sustained for a longer period.
2. Reforms – deep rooted structural reforms needed to exploit demographic potential
A large and young population is an opportunity and a challenge at the same time. We believe deep-rooted structural reforms are required to exploit India's demographic potential and reduce the economic disparity amongst various sections of the populace.
In this regard, the reforms undertaken by the current government are extremely impressive, have long-term implications on the formalisation of the economy and help to boost economic growth. The government has focused on transparency, effective public spending and reducing corruption. There have also been improvements in the ease of doing business, the tax base and governance standards. Below we highlight some of the key reforms and their impact on the economic structure.
a. Formalisation of the economy
A peculiar aspect of India's economy is that it's largely informal. This sector accounts for almost 40% of GDP and employs almost 75% of the labour force. Unfortunately, most entities in the informal sector gain their competitive edge due to their ability to evade taxes, disregard minimum wages and statutory benefits, and circumvent labour legislation. A large proportion of the informal economy does not pay taxes and subsequently the tax-to-GDP ratio in India is low. Various reforms initiatives are needed to improve tax compliance and formalise the economy.
We believe implementation of the Good and Services tax (GST), a value-added tax with input-tax credit, is a step in this direction. The GST will remove the multiplicity of taxes and improve the ease of doing business. As the system uses input-tax credit and technology to match invoices, the ability to evade taxes is now low. Post-implementation, the number of enterprises paying indirect taxes has gone up by 3.4 million, an increase of 50%.
Second, only a quarter of the 240 million Indians working outside farms file for income taxes. The controversial demonetisation exercise undertaken in November 2016 seems to have led to a significant increase in the number of income tax filers. We hope this will lead to a sustained increase in personal tax collections.

Source: Credit Suisse Research
b. Identity card
A Unified Identity (UID) number (called Aadhaar) based on an individual's biometric identity has been issued to over 1 billion Indians. The government has used the identity number to improve financial inclusion and reduce leakages in the public transfer systems. A scheme called Direct Benefit Transfer (DBT), is used to distribute subsidies such as cooking gas subsidy, fertiliser subsidy via the UID into the bank account of the recipient.
Social spending in India is high at 10-12% of GDP. With DBT, the effectiveness of social schemes improves substantially and corruption/leakages are reduced. This will help improve government finances and lead to higher spending on healthcare and public infrastructure.

Source: Government of India, Kotak Institutional Equities
3. Financialisation
With the formalisation of the economy, we expect India's domestic national savings rate and household financial savings to rise as a proportion of GDP. Positive real rates, focus on inflation and moderation of inflation expectations has helped savings to move away from physical assets to financial assets. According to estimates by Kotak Institutional Equities, gross household financial savings are expected to increase three times over FY18-25e. Large and liquid financial markets with a diverse offering of financial products make it easier to fund investment, especially in long-tenor infrastructure projects.
These four major shifts—more firms paying indirect taxes, more individuals filing income tax returns, a big increase in the proportion of formal jobs and the increase in savings in the formal financial sector—will have profound effects on the Indian economy.
4. Insolvency and Bankruptcy Code
The Insolvency and Bankruptcy code, 2016 (IBC) is a bankruptcy law of India which intends to consolidate the existing framework by creating a single law for insolvency and bankruptcy. This unified IBC intends to protect the interest of both the secured and the unsecured creditors by offering a mechanism for collective insolvency rather than debt recovery. It is critical to have a mechanism for entities sliding into bankruptcy without causing damage to the economy. IBC has increased the ease of doing business in India but also imbibed a stronger sense of trust in lenders and investors.
India post-election
India is a key market for equity investors in Asia. The country's large population, demographic potential, domestic consumption driven economy and strong growth in infrastructure spending are key positives. The high fiscal and current account deficits are key vulnerabilities. Over the last few years, many structural reforms have been undertaken and we believe these will help India exploit its potential and exhibit high sustainable economic growth in the long run. We expect the reform momentum to continue with the new government and with it, the positive effect. This should help investors in both the listed and unlisted space to generate immense value.