Shares Little Changed Amid China Concerns
The Japanese equity market was little changed in March, with the TOPIX (w/dividends) rising 0.09% on-month and the Nikkei 225 (w/dividends) dropping 0.03%. There were some positive developments during the month, such as heightened expectations for progress in US-China trade negotiations following reports of telephone discussions by senior officials from both countries as well as the announcement of tax cuts and other large-scale economic measures by the Chinese Prime Minister. However, stock prices were also weighed down by concerns over a slowdown in the Chinese economy after major semiconductor manufacturers temporarily halted production given a decrease in demand in China, as well as fears of a potential global economic slowdown as business sentiment indicators amongst US and European manufacturers were worse than expected.
Of the 33 Tokyo Stock Exchange sectors, 12 sectors including Fishery, Agriculture & Forestry, Real Estate, and Pulp & Paper rose, while 21 sectors including Marine Transportation, Rubber Products, and Transportation Equipment declined.
Exhibit 1: Major Indices (Last Month and Historic Changes)

Source: Bloomberg, as at 31 March 2019
Exhibit 2: Nikkei 225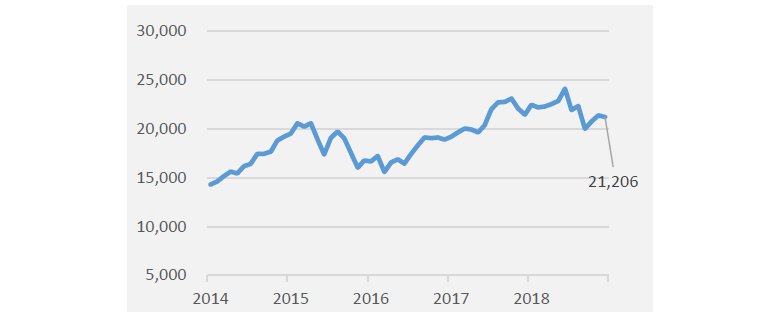 Source: Bloomberg, as at 31 March 2019
Heisei vs Reiwa
There's been a lot of press lately about the recent naming of the new Reiwa era to commemorate the ascension of Crown Prince Naruhito as emperor. There's also been copious amounts of ink dedicated to comparing current events with the start of the Heisei era 30 years ago.
As the FT wrote, "The Heisei era began in January 1989 at the climax of Japan's spectacular economic boom. Within a year, the stock market bubble had burst, marking the start of Japan's "Lost Decade" — a period of deflation, financial turmoil and slow economic growth. For many Japanese, therefore, Heisei has a gloomy feel."
While we don't foresee any bubbles bursting this time, it may be worthwhile to note that for Japanese people, there will be a fair amount of optimism kicking off the new era. Also, a speculative mind has come back to the market, which is normal and healthy.
Tankan Pessimism
Business confidence at big Japanese manufacturers worsened in March from three months ago, the Bank of Japan's closely watched Tankan survey showed. This underscored "concerns that slumping exports and factory output were taking their toll on Japan's economy," according to Reuters.
In our view, this pessimism is not as bad as it is being portrayed. The slowing of the manufacturing sector has been expected, and the non-manufacturing sector is quite healthy. Corporate guidance is notoriously conservative in Japan, so sentiment shouldn't be viewed in such a dire manner in a slowing environment.
China Volatility
Investors continue to be cautious about the relationship between China and Japan. Activity in China's services sector picked up to a 14-month high in March as demand improved at home and abroad, adding to signs that government stimulus policies are gradually kicking in. There are now hopes that China's downturn may be bottoming out, and indeed we expect to see a recovery from July.
Japan's machinery, semiconductors and auto-related sectors all suffered from the downturn in China and should now see some recovery as well.
Exhibit 3: Major Market Indices
TOPIX


JGB Yield


JPY/USD


Japan Equity Net Purchase from Overseas (JPY bil.)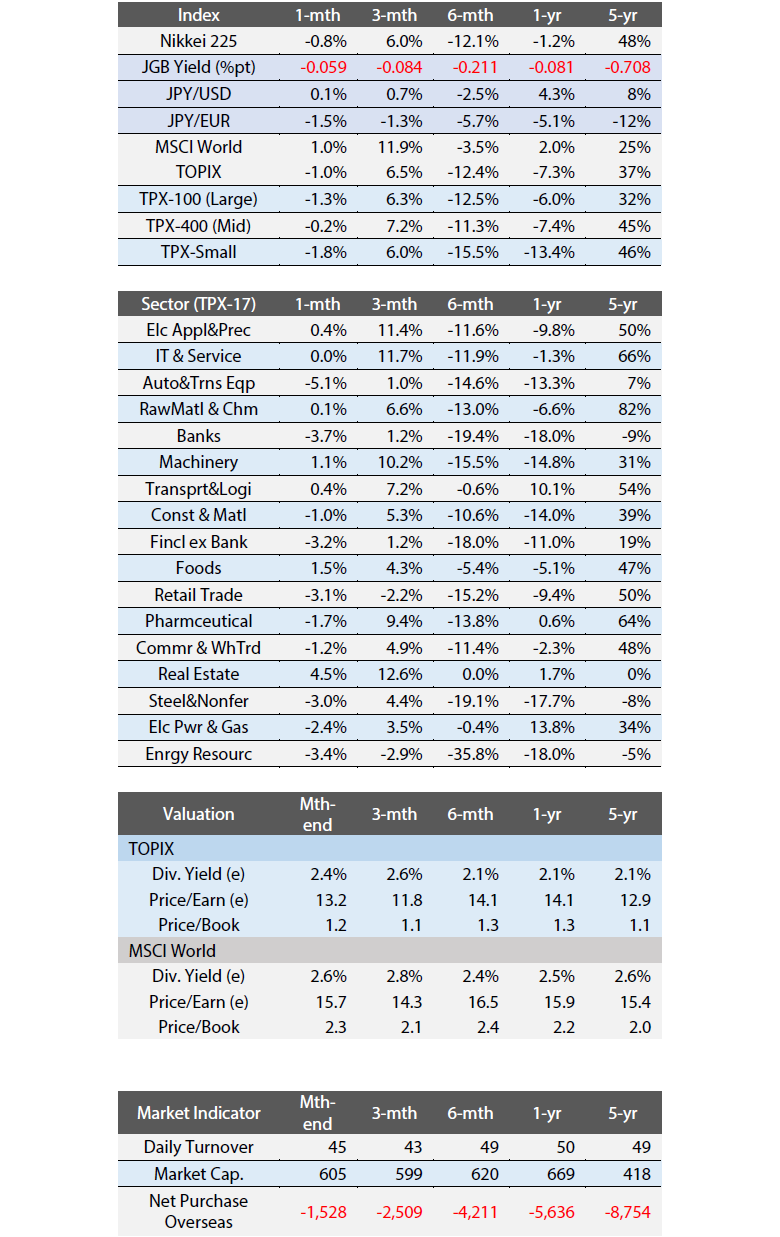 Source: Bloomberg, as at 31 March 2019
Exhibit 4: Major Index Performance, Indicators, and Valuation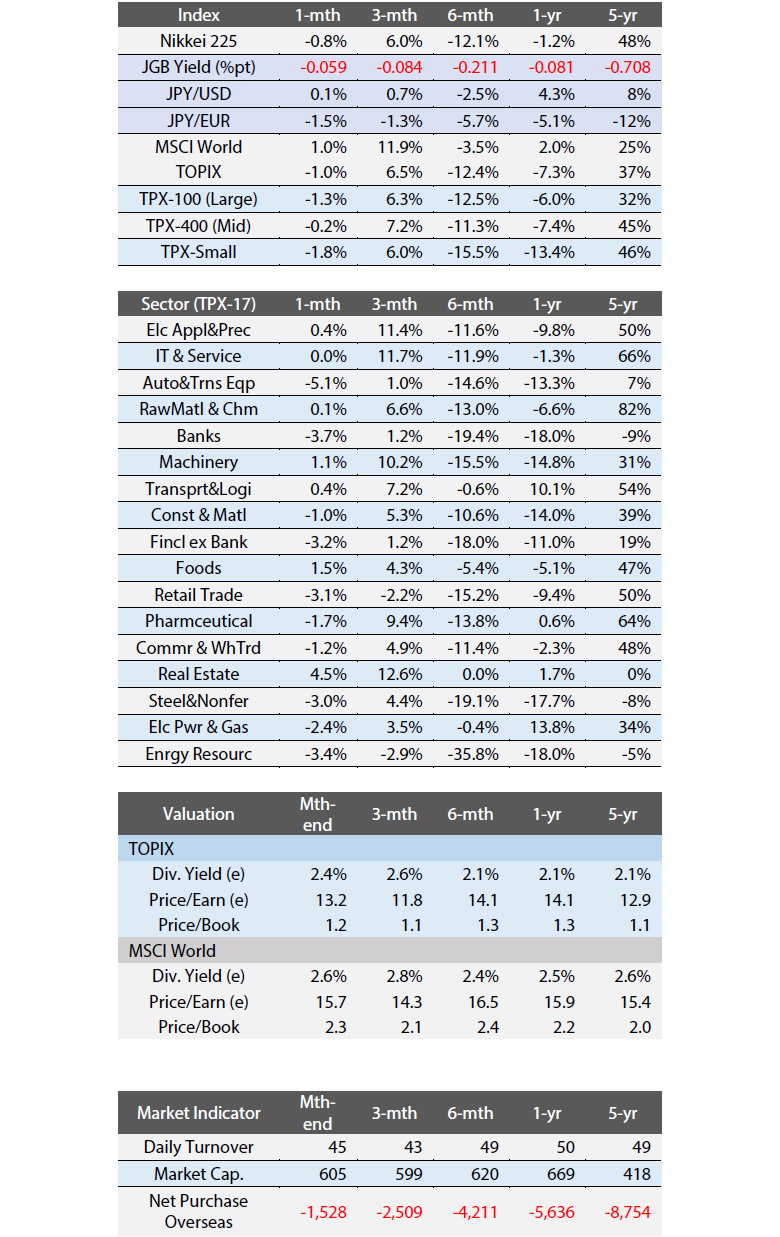 Source: Bloomberg, as at 31 March 2019
(e) stands for consensus estimates by Bloomberg.
Turnover and market cap in JPY tril.
Net Purchase (JPY bil.) from Overseas is cumulative monthly.