Shares Climb on Receding Slowdown Concerns
The Japanese equity market rose in April, with the TOPIX (w/dividends) rising 1.65% on-month and the Nikkei 225 (w/dividends) climbing 4.97%. Stock prices began the month higher, bolstered by improved Chinese manufacturing figures, receding concerns over an economic slowdown, and expectations for progress in US-China trade talks following comments from the US President. Although stocks retreated briefly after the US indicated its intention to impose tariffs on imports from the European Union, spurring renewed worries over US protectionism, the market returned to an uptrend as better-than-expected China's GDP figures and US retail sales supported expectations that the global economy will improve.
Of the 33 TSE sectors, 21 including Marine Transportation, Other Products, and Machinery posted gains during the month, while 12 including Electric Power & Gas, Fishery, Agriculture & Forestry, and Real Estate declined.
Exhibit 1: Major Indices (Last Month and Historic Changes)

Source: Bloomberg, as at 30 April 2019
Exhibit 2: Nikkei 225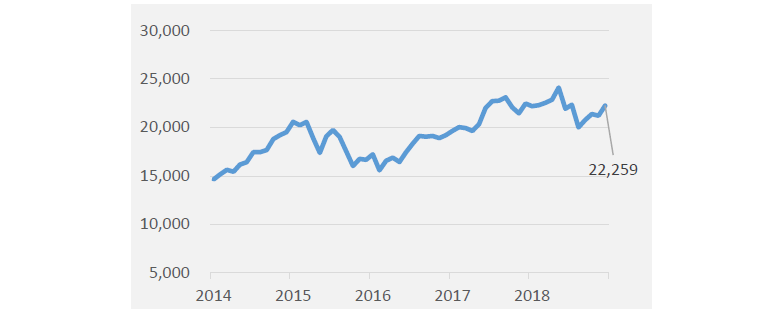 Source: Bloomberg, as at 30 April 2019
Reiwa Era Begins
With the coronation of Japan's new emperor in May, the Reiwa era has begun. The new era could usher in several important developments, such as work reforms and increased workplace diversity. Contrary to popular perceptions, Japan's seniority-based system with lifelong employment is rooted in tradition and is not legally binding. Some companies have already begun to undo their seniority systems, and we expect lifetime employment to eventually give way to greater efficiency.
Work reforms such as a legal cap on working hours may be good for consumption as they would lead to higher wages. They will also result in the need for greater labour market flexibility, which should mainly benefit IT and service sector companies with an influx of female workers. However, overall, they are probably not a positive factor for equities as they won't address Japan's severe labour shortage and provide relief for the construction and transportation industries.
While internal promotion of women is still lagging in more traditional industries, we are seeing more women appointed as external directors on the boards of listed companies. This is serving as a tailwind for diversity, ultimately providing more opportunities for women in IT, finance and services.
Japan-US Trade Talks
Trade talks between Japan and the US look set to gain momentum with Abe having recently traveled to Washington D.C. and Trump to visit Japan twice in the coming months. While many Americans saw Japan as an economic adversary in the 1980s, most analysts see the current US trade talks with Japan as being far less contentious than those with China. While the US accuses China of unfair trade practices, the main issue with Japan is deficiency, or the fact that Japan doesn't consume much from the U.S.
The main issues for Japan and the US now are agriculture and autos. In agriculture, Japan has so far agreed to phase out import duties on about 2,000 agricultural products, more than in any previous trade deal, and it will probably agree to more.
In terms of autos, only about a quarter of the Japanese-brand cars sold in the US are imported, though Japan remains the source for many high-value components as well as design work. Thus any restrictions on Japan auto exports to the US would mainly affect luxury makers. Japan is also a shrinking market for US automakers, who instead want to sell to China. While talks may result in limited short-term costs for Japanese automakers, we don't see a major long-term impact.
Exhibit 3: Major Market Indices
TOPIX


JGB Yield

JPY/USD


Japan Equity Net Purchase from Overseas (JPY bil.)


Source: Bloomberg, as at 30 April 2019
Exhibit 4: Major Index Performance, Indicators, and Valuation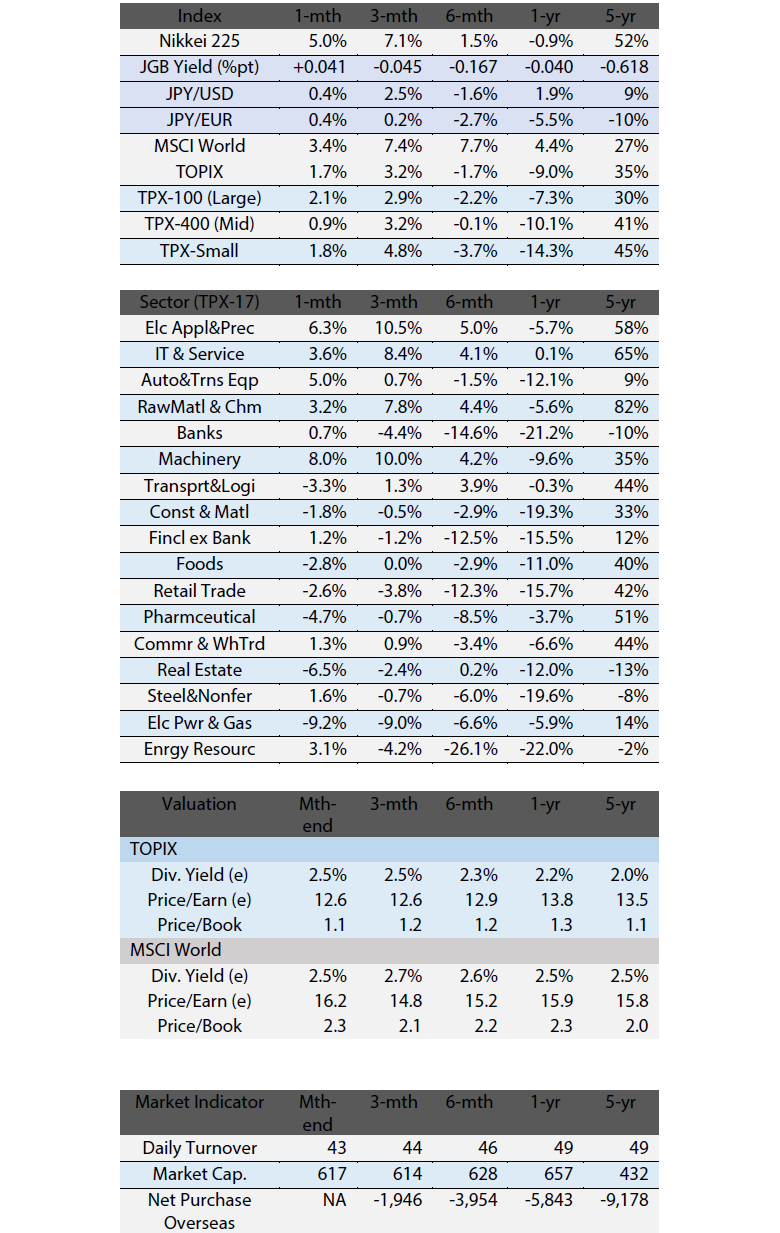 Source: Bloomberg, as at 30 April 2019
(e) stands for consensus estimates by Bloomberg.
Turnover and market cap in JPY tril.
Net Purchase (JPY bil.) from Overseas is cumulative monthly.