Change for the Better
A disruptive force for good hit the conventional thinking of asset managers with the introduction of the United Nations' Principles for Responsible Investment (PRI) in 2006. The Principles are based on the notion that ESG issues can affect the performance of investment portfolios, and investors that become PRI signatories pledge to incorporate ESG issues into their investment processes.
Since 2006, awareness of ESG investing has grown tremendously across equities and increasingly within fixed income. There are now more than 1,800 signatories to PRI and over USD 70 Trillion in AUM committed to responsible investing. An additional catalyst to the growth of ESG has been the increasing awareness and focus on climate change, especially following the Paris Agreement's commitment to limit the rise in global temperature to well below 2 degrees Celsius this century. To achieve this objective, it has been estimated that USD 12.1 trillion in infrastructure investment will be required over the next 25 years.
Despite this tremendous growth, we believe it is still early days, in particular for ESG investing via fixed income. With the 2015 introduction of the UN's Sustainable Development Goals (SDGs), the ESG landscape is on the cusp of transforming further, with the UN estimating that annual financing of up to USD 5 trillion will be needed through to 2030 to meet the goals. These financing needs are too large for public investment alone, and the funding gap will need to be met by the private sector through capital markets. The global fixed income market, with USD 100 trillion in assets, will play an important role in achieving the SDGs. It will require the reallocation of a significant part of this massive asset pool to allow the necessary funds from private investors to be directed into this new form of investing.
The Role of Fixed Income
It can be argued that fixed income investors have always had a focus on governance when conducting credit analysis. However, environmental and social factors are now being viewed with increasing importance. For example, green bonds, first introduced in 2007 and managed by Nikko Asset Management since 2010, were initially issued by Multilateral Development Banks (MDBs) to finance climate and environmental projects such as renewable energy and clean transport. However, the launch of the first corporate green bond in 2013 acted as a catalyst, spurring innovation, growth and new issuance from different types of issuers in the market. Through 2018, a cumulative USD 520 billion of such bonds has been issued and we expect another USD 170 billion–180 billion to be sold in 2019 (figure 1).
Green bonds are leveraging fixed income to reach sustainability goals; they have raised awareness of climate change and provided capital to mitigate its effects. While they still account for a small portion of the global bond market, they are expected to grow further driven by demand for sustainable infrastructure and energy.
Looking ahead, we believe that SDG-linked sustainable bonds could play an even bigger role in supporting the transition toward a sustainable economy. In one high-profile example last month, Starbucks issued a USD 1 billion SDG-linked bond—its largest of three to date—to support ethically sourced coffee. We believe the market for sustainability bonds will eventually be many times larger than that of green bonds. With further innovation as the market matures, the potential of new fixed income products and instruments geared toward sustainability is likely and, as a result, we envisage ESG to play an increasingly prominent role in fixed income markets.
Figure 1: Global Market for Green Bonds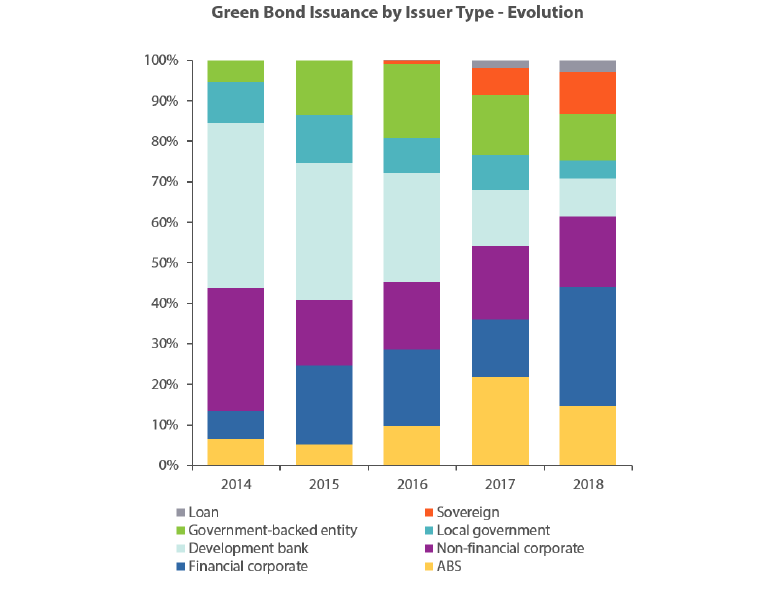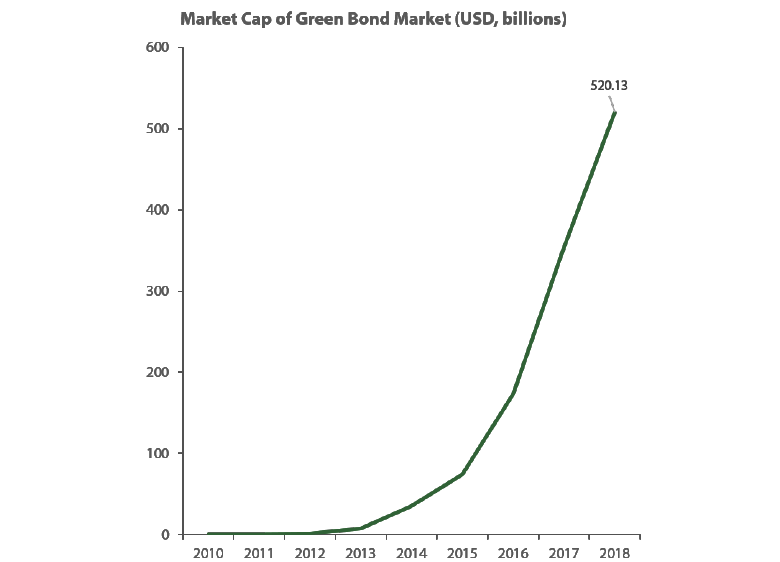 Source: Bloomberg & Climate Bonds Initiative, 31 December 2018
The Path Ahead
For sustainable investing to become more established in the mainstream, a common language is first needed for investors to talk about ESG and to increase transparency and comprehension for market participants. There are currently too many different interpretations of core ESG concepts within the market, hence the need for a common language. Index providers like MSCI have provided a good starting point, but a shared vocabulary needs to be further developed.
MDBs, as well as Sovereigns and Supranationals and Agencies (SSAs) have so far played a critical role in the evolution of the green and sustainable bond markets. However, it is now time for asset managers to step up and proactively provide sustainable investing opportunities, especially as more private capital is needed to meet the UN's projected sustainable funding gap. At Nikko AM, we see ourselves as capital allocators and we intend to continue our efforts to provide the capital needed to meet the UN SDGs. We believe it is our responsibility to create innovative products and strategic partnerships across the capital market structure to establish pathways for meaningful flows into sustainable investments.
An encouraging trend in recent years has been millennial interest in ESG. This demographic group is said to be twice as likely to invest in companies or funds that target specific social or environmental outcomes. As this generation moves into its prime wealth accumulation years, we will see the emergence of an abundant source of capital. This should mean growth in sustainable infrastructure projects, especially those related to cleaner energy.
It is also important to keep in mind that sustainable investing is not just about returns. It is also guided by our values as a society and as individuals. Achieving the SDGs and targets from the Paris Agreement will therefore require new ways of thinking from both investors and issuers. Asset owners and their investment managers will have to broaden their conversations to take sustainability into account, with managers increasing their investor education efforts. Finally, the public and private sectors working together, from both the equity and fixed income parts of the capital structure, will be vital in achieving the SDGs.