Shares Retreat as Trade War Intensifies
The Japanese equity market fell in May, with the TOPIX (w/dividends) dropping 6.52% on-month and the Nikkei 225 (w/dividends) declining 7.44%. Japanese stocks began the month lower after the US announced an increase in tariffs on Chinese imports, to which China announced retaliatory tariff measures. As the trade dispute between the US and China intensified, growing concerns over a global economic slowdown weighed on stocks. Although the market briefly moved upward as higher-than-expected Japanese GDP figures eased some uncertainty over the domestic economy, stocks returned to a downtrend after both the US and China announced a series of trade countermeasures, spurring concerns that the US-China trade war could have a serious impact on the global economy.
Of the 33 Tokyo Stock Exchange sectors, Real Estate was the only sector to post gains, while the remaining 32 sectors dropped, with Mining, Marine Transport, and Iron & Steel posting the steepest declines.
Exhibit 1: Major Indices (Last Month and Historic Changes)

Source: Bloomberg, as at 31 May 2019
Exhibit 2: Nikkei 225

Source: Bloomberg, as at 31 May 2019
Japan-US Trade Talks
I was recently interviewed by NHK World about Donald Trump's visit to Japan and about the trade talks between Japan and the US. I told them that while symbolically, the first visitor to meet the new emperor is important, the trip was mostly defence-related and many challenges remain for the trade talks.
Firstly, the timing is an issue, as any discussion of agriculture in Japan, particularly about rice, would be extremely sensitive before an election. While Trump optimistically suggested an August resolution, right after the Upper House elections in Japan, my sense is that it may take longer than that, but it will certainly be resolved before the US presidential election in 2020.
G20 in Osaka
With the G20 taking place in Osaka this month, all eyes will be on a potential meeting between Trump and China's Xi Jinping. Most likely there will be some progress, but a deal is unlikely at this point. China's negotiation stance has been hardening and isn't likely to soften any time soon.
I was also asked in the interview about how the talks between Japan and the US differ from those between the US and China. The answer is that fundamentally, both Japan and the US agree on a framework, or a shared definition of fairness. So any issues such as agriculture or autos can be worked out within that framework. That sort of agreement doesn't exist between the US and China. It's hard to negotiate if you can't agree on a definition of fairness. The bottom line is that if there is no olive branch offered by either side, it will be bad for investors.
Takeover Defences
More listed Japanese companies are withdrawing takeover defences in response to mounting criticism from investors, who view the measures as protecting management. Japanese companies with anti-takeover measures in place have dropped 40% to 342 from the peak in 2008. Still, Japan has a long way to go to catch up to the US, where only 4% of companies have "poison pill" mechanisms.
As a steering committee member of both the Investor Forum Japan and Stewardship Association, I'm naturally quite pleased by this kind of progress and it should produce some positive effects. But, while the pace of change is steady, it is still too slow in my opinion.
Exhibit 3: Major Market Indices
TOPIX


JGB Yield


JPY/USD


Japan Equity Net Purchase from Overseas (JPY bil.)


Source: Bloomberg, as at 31 May 2019
Exhibit 4: Major Index Performance, Indicators, and Valuation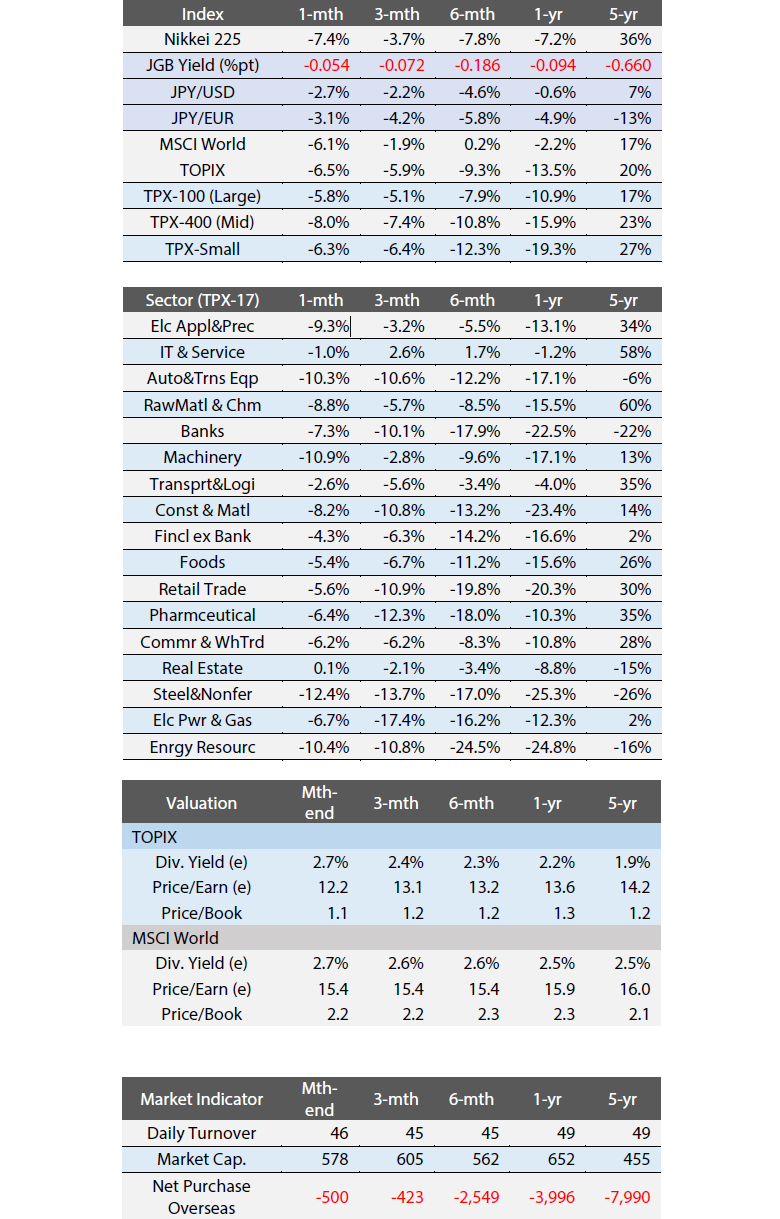 Source: Bloomberg, as at 31 May 2019
(e) stands for consensus estimates by Bloomberg.
Turnover and market cap in JPY tril.
Net Purchase (JPY bil.) from Overseas is cumulative monthly.