Hopes for Interest Rate Cut Lift Stocks in June
The Japanese equity market rose in June, with the TOPIX (w/dividends) rising 2.76% on-month and the Nikkei 225 (w/dividends) climbing 3.52%. Stocks began the month higher after comments from the US Fed Chairman pointed to the possibility of an interest rate cut, which helped to ease concerns over a global economic slowdown. From mid-month onwards, the market was somewhat mixed. Although expectations for progress in US-China trade talks at the G20 summit provided support to the market, stocks were also weighed down by heightened geopolitical risks in the Middle East as US and Iran tensions intensified following the tanker attacks in the Gulf of Oman. Nevertheless, the market ended in positive territory for the month.
Of the 33 Tokyo Stock Exchange sectors, 27 sectors such as Mining, Non-Ferrous Metals, and Marine Transportation rose, while six sectors including Electric Power & Gas, Land Transportation, and Fishery, Agriculture & Forestry declined.
Exhibit 1: Major Indices (Last Month and Historic Changes)
Source: Bloomberg, as at 28 June 2019
Exhibit 2: Nikkei 225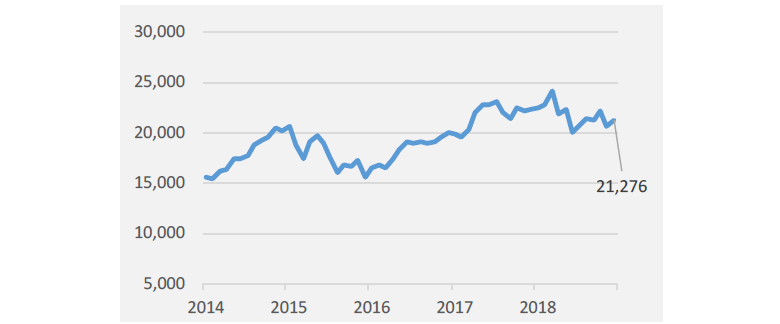 Source: Bloomberg, as at 28 June 2019
Upper House Election: No Surprises Expected
The election for the upper house of Japan's legislature will be held 21 July, and the ruling coalition of has set out a modest goal of maintaining its majority. The market consensus, which is also our view, is that there will be no surprises and that the Liberal Democratic Party and its coalition partner will easily maintain control of the chamber.
Much of the media focus, however, is on whether the LDP, together with its allies, can maintain a supermajority of two-thirds of the chamber's seats. This, together with its supermajority in the lower house, would allow the LDP to push ahead with its stated goal of revising the country's postwar pacifist constitution. That said, this is a mainly a political issue. Whether the coalition gains its two-thirds majority shouldn't affect the economy or markets.
Regardless of the margin of victory, there is no anticipated change to economic policy and it is difficult to imagine a scenario in which the election would have an adverse effect. Even if the coalition were to suffer a stunning loss, it's not certain that Prime Minister Shinzo Abe would step down as there is no rival waiting in the wings to replace him.
Further Easing Ahead for BOJ?
The market's general view is that the Bank of Japan is unlikely to undertake further easing in 2019. However, with the Federal Reserve signaling that it may cut rates as early as July, and the European Central Bank hinting at more monetary stimulus, the BOJ will likely have to move in the same direction.
The market consensus that further action is unlikely is based on the notion that additional easing would further harm the profitability of commercial banks by continuing to squeeze the margin between loans and deposits. However, the BOJ doesn't see itself as responsible for the profitability of its commercial counterparts. Rather, it believes it has to consider the good of the entire economy. We have been able to detect this from comments by BOJ board members, whose view is that the issue of bank sector profits is a political matter.
In terms of measures that could be taken, the bank still has plenty of options. On one hand, it could target lower levels of long-term rates through yield curve control. At the same time, it has further room to expand its purchases of assets, such as ETFs. Action by Japan's central bank may therefore be more likely than expected.
Exhibit 3: Major Market Indices
TOPIX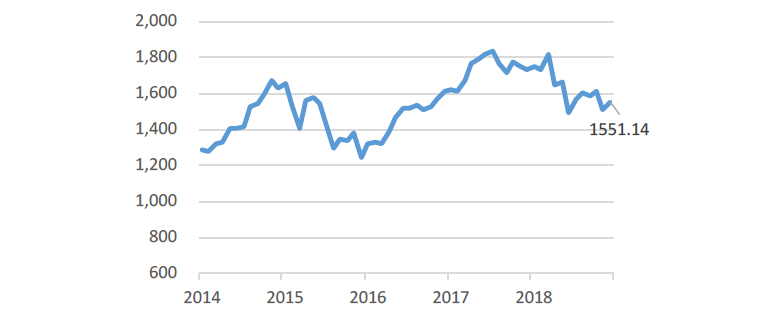 JGB Yield


USD/JPY


Japan Equity Net Purchase from Overseas (JPY billions)


Source: Bloomberg, as at 28 June 2019
Exhibit 4: Major Index Performance, Indicators, and Valuation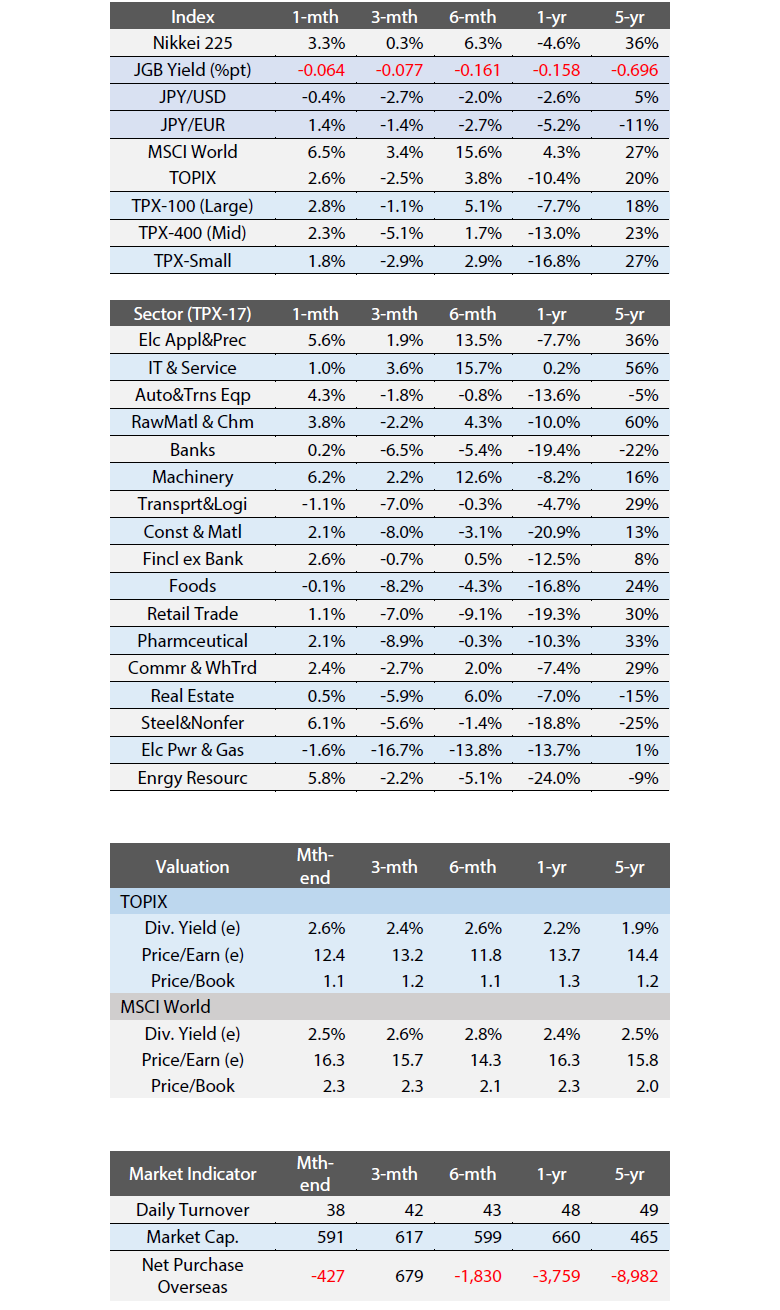 Source: Bloomberg, as at 28 June 2019
(e) stands for consensus estimates by Bloomberg.
Turnover and market cap in JPY trillions.
Net Purchase (JPY billions) from overseas is cumulative monthly.