Stocks Up in July on Rate Cut, Trade Hopes
The Japanese equity market rose in July, with the TOPIX (w/dividends) rising 0.91% on-month and the Nikkei 225 (w/dividends) climbing 1.16%. Stocks began the month on an uptrend on expectations for progress in trade negotiations after the US announced during the G20 summit that it would not impose additional tariffs on China. In addition, stocks were supported by expectations for a US rate cut after comments from the Fed chairman appeared to point to a reduction. However, toward the end of the month as the earnings season began, a number of companies downgraded their earnings on the slowing Chinese economy, which in turn weighed on investor sentiment. As a result, the market gave back some of its gains from earlier in the month.
Of the 33 Tokyo Stock Exchange sectors, 17 sectors rose, including Insurance, Marine Transportation, and Fishery, Agriculture & Forestry. In contrast, 16 sectors declined, including Iron & Steel, Securities & Commodity Futures, and Oil & Coal Products.
Exhibit 1: Major Indices (Last Month and Historic Changes)

Source: Bloomberg, as at 31 July 2019
Exhibit 2: Nikkei 225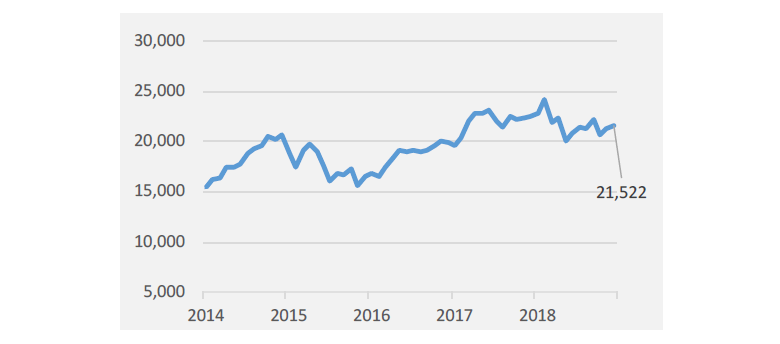 Source: Bloomberg, as at 31 July 2019
No Change to Economic Policy Post-Election
In line with projections, the election for the upper house of Japan's legislature on 21 July resulted in the ruling coalition maintaining its majority, even if parties in favour of revising the constitution failed to hold on to the necessary supermajority. In terms of economic and market effects, the coalition victory means that there will be no change in the government's economic policies (aka 'Abenomics'). Specifically, the planned October increase in the sales tax rate is now virtually guaranteed. The election result, in a sense, served to validate the tax hike among the public.
While the tax hike is more or less a sure thing, the effect of the measures to counter it is less certain. The government is spending JPY 7 trillion over three years to bolster infrastructure against natural disasters, as well as implementing subsidies to ease the burden on households and boost consumer spending on durable goods. However, the current labour shortage could weigh on the construction industry, where workers will be needed for infrastructure projects. Meanwhile, in terms of consumption, the effect of the government measures will be muted if beneficiaries pocket rather than spend the money they gain. We therefore need more time to gauge the effect of these measures.
Signs Still Point to Further Easing for BOJ
Recent comments by Bank of Japan Governor Haruhiko Kuroda that 'Japan is no longer in deflation' do not mean that the BOJ is moving away from further easing. Rather, he is correctly affirming that the measures taken so far are working. The fact that Japan CPI has turned positive is indeed meaningful and well worth noting.
However, the BOJ still has a 2% inflation target and an overshoot commitment, meaning that simply reaching the target isn't enough. There is also concern about the effect of the sales tax hike, which Kuroda has identified as a risk. With the Federal Reserve having already cut rates in August, the BOJ may be compelled to ease even further.
As mentioned last month, the BOJ still has several easing tools at its disposal. One is that it could alter its forward guidance (in which it currently pledges to maintain short-term interest rates at very low levels until April) to commit to keeping rates at an extremely low level over an even longer-term horizon. It could also target lower levels of long-term rates through yield curve control, or further expand its purchase of assets, such as ETFs.
Exhibit 3: Major Market Indices
TOPIX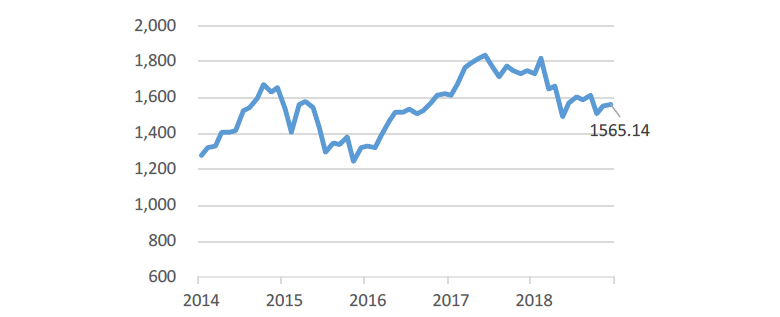 JGB Yield


USD/JPY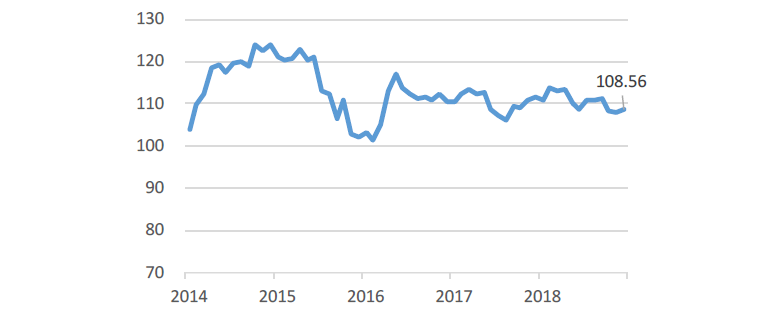 Japan Equity Net Purchase from Overseas (JPY billions)


Source: Bloomberg, as at 31 July 2019
Exhibit 4: Major Index Performance, Indicators, and Valuation
Source: Bloomberg, as at 31 July 2019
(e) stands for consensus estimates by Bloomberg.
Turnover and market cap in JPY trillions.
Net Purchase (JPY billions) from overseas is cumulative monthly.