Stocks Fall in August on Global Slowdown Fears
The Japanese equity market fell in August, with the TOPIX Total Return Index dropping 3.37% on-month and the Nikkei 225 Total Return Index declining 3.72%. The market rose briefly after better-than-expected preliminary GDP figures for Japan alleviated some concerns over the domestic economy. However, stocks were subsequently weighed down by fears of escalating trade tensions following news that the US would implement a fourth round of tariffs on China. Stocks slipped further after China announced retaliatory tariffs on US products and US President Trump indicated that he would take further countermeasures, spurring concerns that continued retaliation between the US and China would result in global economic slowdown.
Of the 33 Tokyo Stock Exchange sectors, Securities & Commodity Futures, Real Estate, and Retail Trade were the only sectors to post gains. In contrast, 30 sectors declined, including Oil & Coal Products, Iron & Steel, and Marine Transportation.
Exhibit 1: Major Indices (Last Month and Historic Changes)

Source: Bloomberg, as at 30 August 2019
Exhibit 2: Nikkei 225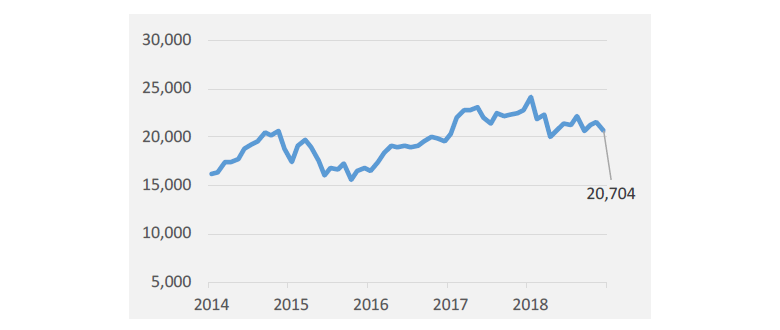 Source: Bloomberg, as at 30 August 2019
US-China Trade Spat: Limited Impact on Japan
As already mentioned, the US-China trade relationship took a turn for the worse in August. Initial US tariffs led to China retaliating (as expected), followed by the US announcing its own retaliatory measures (which was unexpected). This triggered a downturn in global markets, including in Japan's.
While the US-China trade dispute is a general cause for concern, we don't believe it will specifically affect Japan on a macro scale. It could impact a few companies and sectors—weighing, for example, on some firms' plans for capital expenditure. However, it is a widespread misconception that, given its close proximity to China, the US-China spat will also hurt Japan. As long as aggregate demand in the US and elsewhere remains sufficiently high (and there is currently no sign that it is in decline), we do not anticipate any damage from the two countries' dispute to Japanese corporate growth.
US-Japan Trade Talks Provide Positive Surprise
As for US-Japan trade relations, talks during the G7 summit progressed much more smoothly than expected. Particularly promising is the US reportedly agreeing to abolish tariffs on a wide range of auto parts. Japan, for its part, has pledged to open its markets to US agricultural products. The ease with which a tentative agreement was reached is a positive surprise given what had seemed like a tough negotiating stance by the Trump administration since the start of 2019. Hopes are now that an agreement will be finalized later in September, with ratification by both countries to follow shortly thereafter.
Limited Economic Effect from Korea-Japan Friction
Much attention has been recently paid to frictions between South Korea and Japan, especially with the recent news that Korea intends to end sharing of military intelligence with its neighbour. This is in response to the removal of Korea from Japan's 'whitelist', which had made Korea, along with other countries, eligible for preferential treatment in trade; and following Japan's revision of the rules on the export of certain chemicals to Korea, which will make the export process more onerous. Japan's moves also triggered a widespread movement in Korea to boycott Japanese goods and services.
However, this issue is not as important from a macroeconomic perspective as it is from a political one. Japan's rule revision is not equivalent to a tariff—it will not stop the exports of the affected chemicals, but only slows them down. And the Korean boycott of Japanese goods and services may hurt certain companies and sectors, but we do not expect it will have a broader impact on Japan's GDP.
Exhibit 3: Major Market Indices
TOPIX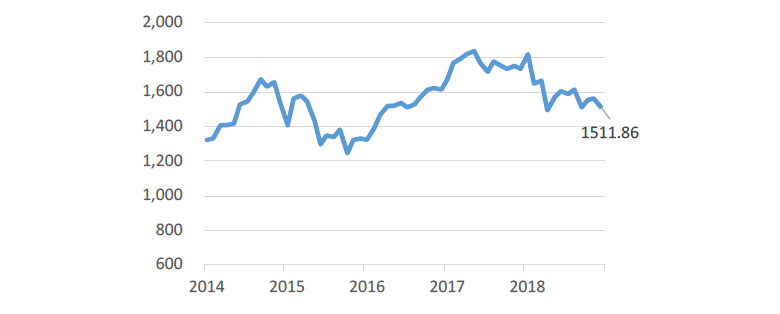 JGB Yield


USD/JPY


Japan Equity Net Purchase from Overseas (JPY billions)


Source: Bloomberg, as at 30 August 2019
Exhibit 4: Major Index Performance, Indicators, and Valuation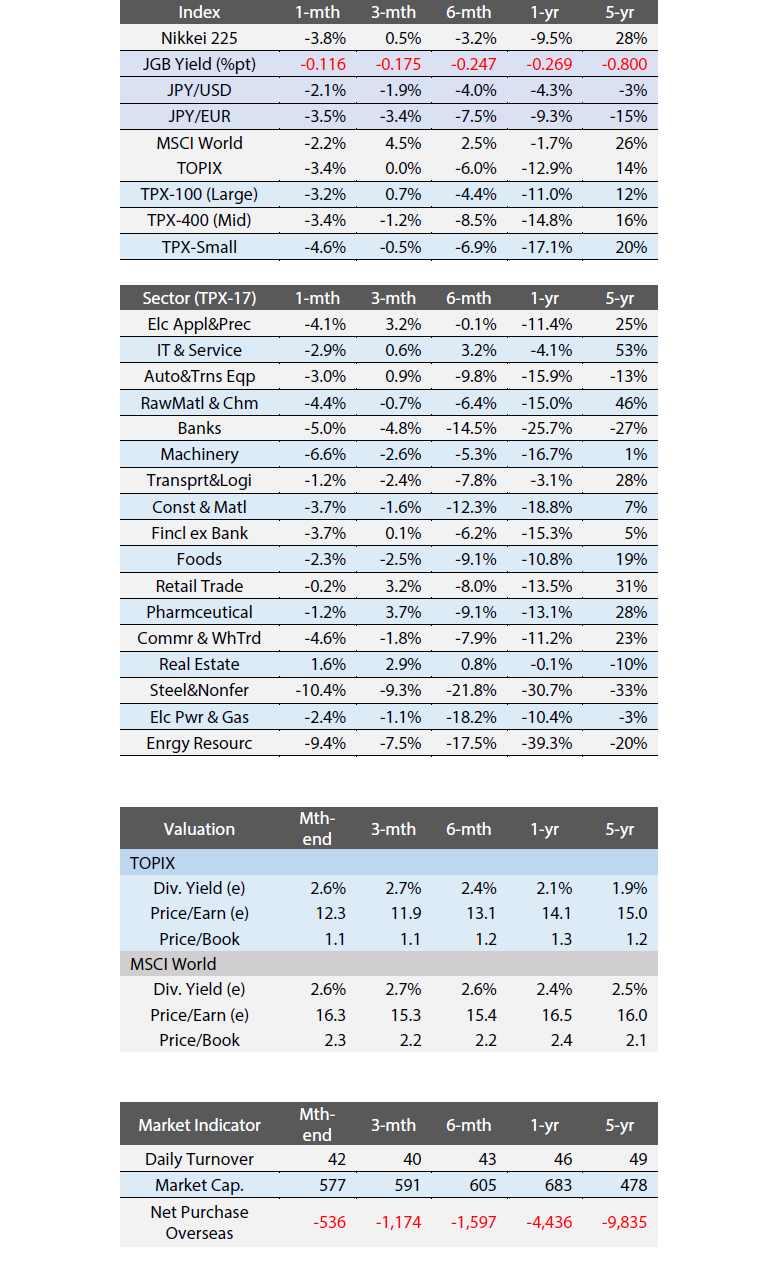 Source: Bloomberg, as at 30 August 2019
(e) stands for consensus estimates by Bloomberg.
Turnover and market cap in JPY trillions.
Net Purchase (JPY billions) from overseas is cumulative monthly.