The Explosive Growth of Short Videos
What would you do if you had 15 seconds of spare time?
You could stretch, send a text, or maybe form a first impression of someone. If you were part of Generation Z, there is a chance you would spend those 15 seconds watching a short video on TikTok.
In today's attention-starved world, the demand for bite-sized content is on the rise. Enter TikTok, or Douyin (抖音) as it is known in China – an immensely popular mobile social network featuring 15-second videos of people dancing, singing or even teaching English.
Launched in 2016, Douyin had become China's most popular mobile video application (app) within two years. Its acquisition of lip-sync video app Musical.ly, which was widely used by teens in the US, made it an international hit and sparked a meteoric rise in global users.
Douyin/TikTok took a third of the time Facebook took to amass 500 million monthly active users1 , and in the first quarter of 2019, it was the third-most installed app in the world2. In short, Douyin/TikTok has turned into a serious competitor for more established social networks such as Instagram, Facebook and Snapchat.
Chart 1: Douyin/TikTok new installs worldwide (in millions)

Source: Sensor Tower, Walkthechat Analysis, Dec18
Chinese Unicorns Are No Longer Copycats
Western readers would perhaps be familiar with Vine, a US short video hosting service that started in the US in 2012 and was bought over by Twitter in 2013. The company achieved great success initially but faded away eventually.
Ironically, while 2016 marked the end of Vine, it was the same year that Douyin and video provider Toutiao were launched. On Vine, users did not feel motivated to create anything and the relative lack of content led to its eventual demise3. In contrast, Douyin/ TikTok took the short video format up a notch, revolutionising content consumption.
Douyin/TikTok uses artificial intelligence and machine learning algorithms4 to deliver personalised content to its users. Users are sent daily reminders to reengage and are given access to creative filters and user-friendly tools to make their own sophisticated and professional-looking short videos. While most users have historically searched for information from platforms, Douyin works the other way, tailoring and customising information to send to its users.
The success of Douyin/TikTok represents the first time a Chinese internet company has gone global and become a market leader in its category. Douyin's parent company, Bytedance, was founded in 2012 with its first app called Neihan Duanzi (内涵段子), which was used to circulate jokes as well as humorous videos. Bytedance now operates a raft of successful mobile content platforms available in over 150 markets5, and was valued at USD 75 billion6 in its last funding round, surpassing Uber as the world's most valuable start-up.
While its name may be less familiar to an international investor compared to Tencent or Alibaba, Bytedance is gaining market share against the Chinese tech behemoths. Although apps by Baidu, Alibaba and Tencent still account for about 60% of user time spent in China, the amount of time spent on Bytedance's apps is increasing at the expense of its competitors, notably Tencent.
Chart 2: Share of time spent on apps
Source: QuestMobile, Jun19
Note: Apps aggregated above have over 1 million monthly active users.
Western tech giants have not let the short video phenomenon go unnoticed. Late last year, Facebook launched a new standalone app, Lasso, to compete with TikTok. Currently only available in the USA, Lasso also allows its users to upload short-form videos with soundtracks. Sensor Tower reported 15,000 app downloads of Lasso in January 2019 compared to 6.4 million downloads of TikTok in the US alone7.
Chinese companies used to be branded as 'copycats' for ripping off popular Western products and brands. However, perceptions are shifting. Mainland internet unicorns are now emerging as trailblazers and innovators, with the ability to leverage their large user bases and technological know-how to achieve global success.
This is largely made possible in the Artificial Intelligence era of today, supported by the presence of big data and boosted by the world's largest user base. China has 829 million internet users, which is a number 48% higher than the second-placed country, India8. The access to a vast number of users who are less concerned about privacy provides a colossal amount of data which can be used to train machines and develop Artificial Intelligence, giving Chinese firms an edge over peers.
Competition is Heating Up at Home
International competitors aside, Bytedance's Douyin faces its biggest rival closer to home. Kuaishou (快手), a similar short video app founded in 2011, was the dominant player in the Chinese market until mid-2018. By offering a more feature-rich video editing platform, Douyin has since overtaken Kuaishou both in terms of total users and daily active users in China. At its last financing round in October 2018, Kuaishou was said to be worth USD 25 billion, a third of Bytedance's valuation9.
Chart 3: Daily active users of Douyin versus Kuaishou in China (100 millions)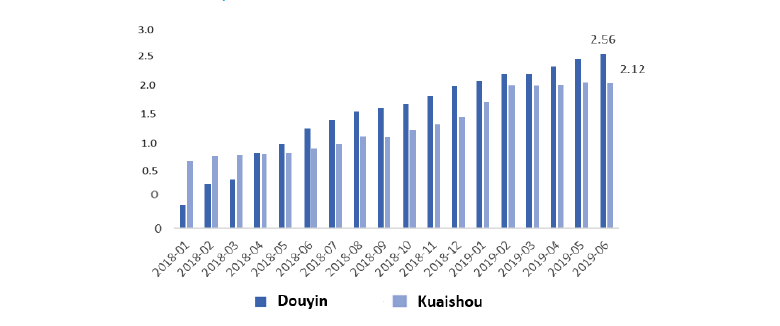 Source: Questmobile, Industrial Securities Research Institute of Economics and Finance, Jun19
Kuaishou, which is backed by Tencent and Baidu, has vowed to claw back its market position. Its co-founders are aiming to amass 300 million daily active users by January 2020 in China10, and have called for a shake-up of the company's corporate culture, which they described as too laid-back.
Compared to Douyin, Kuaishou is more popular among internet users in rural areas within China, as reflected in the charts below. According to Kuaishou, rural users generated revenues of around USD 2.8 billion in 201811.
Chart 4: Douyin versus Kuaishou users in China, by city

Source: Questmobile, Jan18
Chart 5: Douyin versus Kuaishou users in China, by monthly income

Source: Questmobile, Jan18
Kuaishou's content focuses more on the daily life of its users, while Douyin's content skews towards influencers performing, so as a result, their sources of revenue differ slightly too. Livestreaming is Kuaishou's largest revenue contributor, while Douyin gets most of its income from ads on users' newsfeeds12.
Internet giants like Tencent and Alibaba have also tried to enter the market, but all their offerings are struggling against Douyin and Kuaishou. In 2018 alone, Tencent launched eight short video apps in order to ride this trend. Weishi, the most popular app in the fold, attracted over 26.3 million downloads13 last year, a far cry from Douyin and Kuaishou. This shows the difficulty in attracting and retaining eyeballs in China. However, the opportunity is too large to ignore: off a high base of 100% year-on-year growth in users in 2018, short videos are still expected to grow by 25% in 2019 and 15% in 202014.
Innovative Monetisation Models
As new ways of consuming content emerge, it is only natural that new ways of monetising content develop as well. Short-form videos have opened up avenues for key opinion leaders, companies and celebrities to reach out to their audience via gifting, e-commerce or advertising.
Bytedance itself has made at least USD 75 million15 in revenues from selling virtual coins within its app. TikTok/Douyin users can purchase virtual coins to gift to influencers who are livestreaming on the app.
Brands can reach out to their target audiences through hashtag challenges, which encourage users to post videos based on a prompt that integrates the brand's campaign messaging. Hotpot chain Haidilao created a Douyin DIY Recipe challenge, where users could upload videos of themselves customizing their own hotpots. The challenge went viral and generated over 1 billion views16 without any advertising costs to Haidilao.
Video-driven e-commerce is taking off as well. Both Douyin and Kuaishou have integrated e-commerce into their apps, via link-ups with Taobao, JD.com and Pinduoduo, among others. For instance, Douyin allows users to embed 'shop now' product links in their videos, bringing viewers either to their Taobao online store or their personal store within the Douyin app.
Other internet companies have hopped on the bandwagon too. Within Tencent Music's app, users can purchase virtual flowers to gift to singers they like, or throw virtual rotten eggs at singers they dislike. On Weibo, fans can pay to join groups that have exclusive access to photos and videos of their favourite celebrities. Zai Hang, meaning 'in the industry', is a service that allows users to book online consultation sessions with industry experts.
The Key to Generation Z
Brands could not have jumped on the short video platform quickly enough, given its massive popularity among those born between 1993 and 2007 – also known as Generation Z.
This generation of digital natives, widely recognised as the most resistant to advertising, also happens to be the generation whose spending power will shape future products and trends. In the US alone, Generation Z is estimated to have a direct spending power of up to USD 143 billion17 and this number is set to rise.
In China, 80% of Douyin's user base is under 30, and two-thirds are female. Residents of Tier 3 and 4 cities have driven much of the app's recent growth, and now account for over half of total users. Luxury groups, seeing an opportunity to reach out to their future target consumer groups, have started to launch campaigns on the platform. Chanel, Louis Vuitton, Michael Kors, Dior, and Montblanc are among the various international brands that have official accounts on Douyin.
Chart 6: Age group of Douyin users in China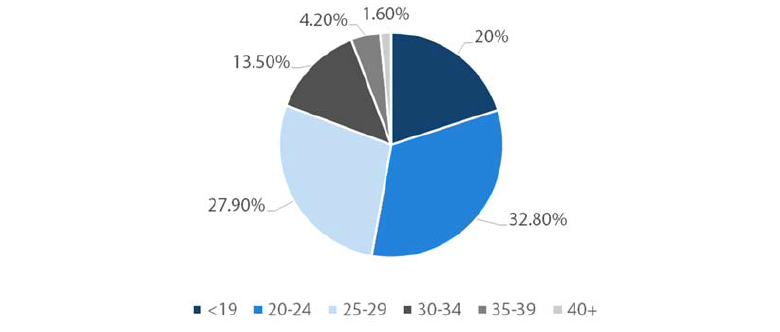 Source: Jiguang data, WalktheChat analysis, Feb18
A Force to Be Reckoned With
The number of internet users in China crossed a whopping 800 million18 in 2018, and over 98% of them access the internet through their mobile devices19. The sheer scale of the Chinese internet population means that trends in internet consumption will increasingly begin in China and then go global. Bytedance may have been the first Chinese unicorn to successfully crack the global markets, but we believe it will not be the last.
Internet consumption trends will also increasingly be driven by the evolving preferences and habits of under-30s. How Generation Z spends its time online, whether it is watching short videos, online shopping, or banking, bears close monitoring by the companies and brands that are competing for their attention span.
The next time you have 15 seconds to spare, consider downloading TikTok, if only just to see what the fuss is about.
Footnotes
1. Source: Facebook reaches 500 million users, Tik Tok hits 500 million global monthly active users as China social media video craze continues
2. Source: TikTok's Videos Are Goofy.
3. Source: How TikTok Is Rewriting the World
4. Source: 8 Lessons from the rise of Douyin (Tik Tok)
5. Source: ByteDance
6. Source: Bloomberg, October 2018
7. Source: TikTok is showing that it's possible to beat Facebook with a hot app teens love
8. Source: Top 20 countries in Internet Users vs. Rest of the World - June 30, 2019
9. Source: China's Video App Kuaishou Targets a $25 Billion Valuation
10. Source: Financial Times, July 2019
11. Source: Kuaishou launches research institute to better serve rural users
12. China Merchants Securities research report, July 2019
13. Source: Tencent's short-video app Yoo rebrands as Hotpot Video
14. Source: 艾媒报告|2018-2019中国短视频行业专题调查分析报告
15. Source: Douyin/TikTok makes $75m from live-broadcasting
16. Source: Douyin (TikTok): What Businesses Need to Know about China's Hottest Video App
17. Source: Frost & Sullivan Research, February 2019
18. Source: Bloomberg, August 2018
19. Source: China Internet Watch, February 2019