Stocks Rise on Hopes for US-China Trade Talks
The Japanese equity market rose in September, with the TOPIX Total Return Index rising 6.04% on-month and the Nikkei 225 Total Return Index climbing 5.85%. Stocks began the month lower on fears of further escalation of the US-China trade conflict following the implementation of additional tariffs from both countries. However, the market recovered from mid-month as risk appetite returned on easing political turmoil, such as the large-scale protests in Hong Kong and confusion surrounding Brexit. In addition, Japanese stocks benefitted from expectations for progress in the US-China trade war after the countries agreed to reopen talks, while the US Federal Reserve cut interest rates, signalling a more accommodative stance.
Of the 33 Tokyo Stock Exchange sectors, 31 sectors rose, including Marine Transportation, Nonferrous Metals, and Oil & Coal Products, while Air Transportation and Information & Communications declined.
Exhibit 1: Major Indices (Last Month and Historic Changes)

Source: Bloomberg, as at 30 September 2019
Exhibit 2: Nikkei 225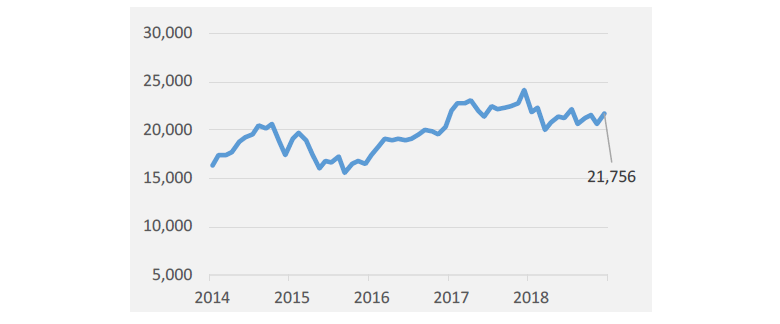 Source: Bloomberg, as at 30 September 2019
BOJ Refrains from Easing as JPY, Stocks Stable
In contrast to easing moves taken by the Fed and the European Central Bank, the Bank of Japan left its policy unchanged in September. There is always concern that an interest rate differential, with higher rates in Japan, could result in a stronger yen. However, the dollar/yen was stable during most of the month, thus allowing the BOJ to refrain from further easing measures.
BOJ Governor Haruhiko Kuroda commented that the central bank still has several measures at its disposal, including cutting rates further into negative territory. We believe the BOJ could also increase its buying of assets such as ETFs and REITs by changing the amounts that it permits itself to purchase.
The market will be supportive of the central bank's 'wait-and-see' stance as long as the yen and stock prices remain stable. Economic fundamentals are mainly positive, with demand in the US remaining strong, as shown by consumer numbers such as retail sales. There are also hopes for a reprieve in US-China trade tensions, with indications that talks between the two countries are proceeding. The BOJ is likely to instead keep its powder dry for when it is under more pressure to ease.
Eyes on Forthcoming Effect of VAT Hike
There was some concern that the October increase in Japan's value-added tax rate could result in many companies having trouble filling demand prior to the increase, and other companies' capacity being too high following it. That said, this is the second such VAT hike in five years, so consumers and retailers seemed to know what to expect; indeed, initial indications are that demand for smaller-ticket items prior to the increase wasn't too strong. Government subsidies to retailers to offer post-hike rebates for cashless payments may also be smoothing out demand.
That said, the BOJ will likely be closely watching the effectiveness of government measures to counter the tax hike. Surveys indicate that support to households through reducing education costs for young children may not filter back into spending. Many parents may instead choose to pocket these savings for the future. Spending on infrastructure to prevent natural disasters (such as tsunami-preventing seawalls) is also planned, but an acute labour shortage in Japan may result in these layouts being delayed.
For the time being, the BOJ will likely want to gauge what the effect from the tax hike will be later this year, or what it will be on companies in the January-March 2020 quarter.
Exhibit 3: Major Market Indices
TOPIX


JGB Yield


USD/JPY


Japan Equity Net Purchase from Overseas (JPY billions)


Source: Bloomberg, as at 30 September 2019
Exhibit 4: Major Index Performance, Indicators, and Valuation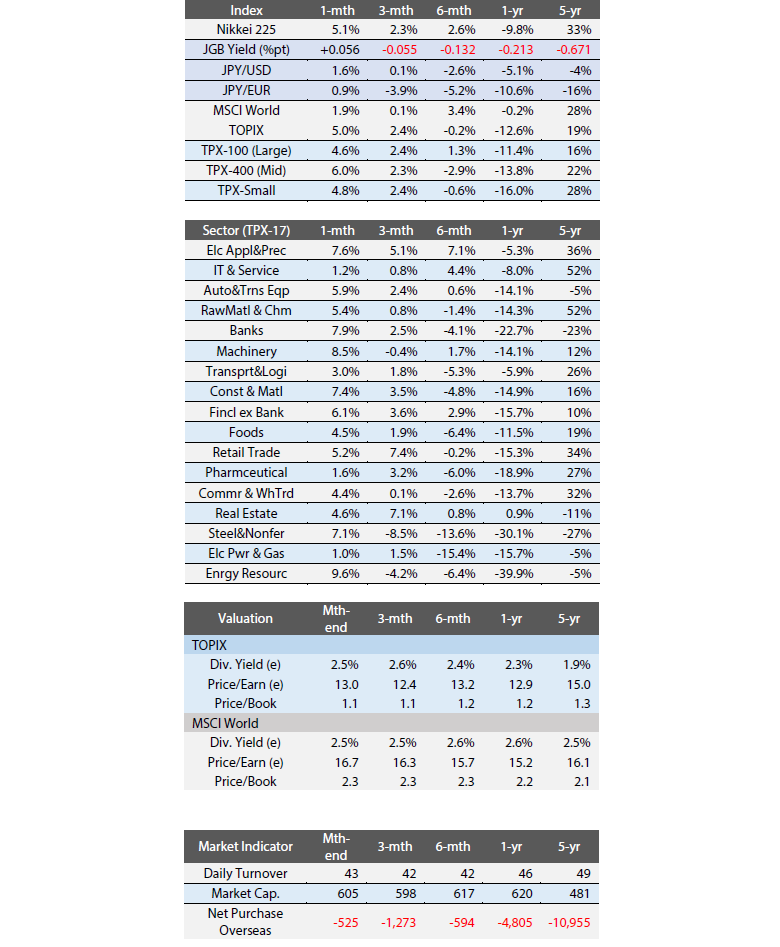 Source: Bloomberg, as at 30 September 2019
(e) stands for consensus estimates by Bloomberg.
Turnover and market cap in JPY trillions.
Net Purchase (JPY billions) from overseas is cumulative monthly.