Trade hopes, earnings expectations boost stocks
The Japanese equity market rose in October, with the TOPIX (w/dividends) rising 4.99% on-month and the Nikkei 225 (w/dividends) climbing 5.39%. Although expectations for progress in US-China trade negotiations provided some support to Japanese stocks in the first part of the month, the market slipped as investors became increasingly risk adverse following the US's announcement of retaliatory tariffs on the European Union and on lower-than-expected US economic indicators. From mid-to late-month, however, stocks rebounded after the US and China made progress toward a partial trade agreement. The earnings season began towards the end of the month and Japanese stocks were further boosted by expectations that a potential trade agreement could have a positive impact on corporate earnings. Of the 33 Tokyo Stock Exchange sectors, 32 sectors rose, including Metal Products, Marine Transportation, and Pharmaceuticals, while only Textiles & Apparels declined.
Exhibit 1: Major Indices (Last Month and Historic Changes)

Source: Bloomberg, as at 31 October 2019
Exhibit 2: Nikkei 225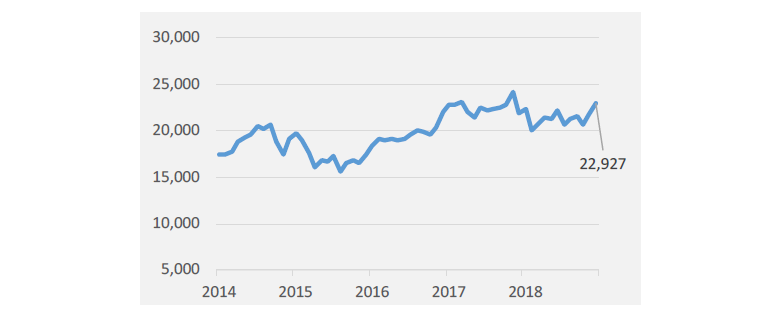 Source: Bloomberg, as at 31 October 2019
Too early for verdict on foreign investment rules
Japan is trying to amend regulations in a bid to exercise tighter control on investments into securities from overseas, raising concerns that inflows from overseas investors could be negatively affected. The proposed changes to the Foreign Exchange and Foreign Trade Act, if given the nod by parliament, would impose stricter regulatory guidelines on foreign investors if they want to buy stocks of companies related to Japan's national security.
The government's initiative is in line with global trends, with a number of countries tightening investment regulations to safeguard sensitive technologies from their rivals.
The proposition is still in its formative stages, so it would be premature to draw any conclusions about its effects. That said, the government is expected to carefully consider feedback from investors before amending the investment rules. They could therefore be quite flexible in their final form. The process may generate initial uncertainty, but Prime Minister Shinzo Abe has in the past urged foreign investors to "buy my Abenomics" and his administration clearly does not want foreign investments curtailed. We therefore believe any changes to investment rules are unlikely to discourage foreign investments in the longer term.
Typhoons could heighten ESG awareness
A series of tropical storms lashed Japan in October, with Typhoon Hagibis, one of the strongest on record, bringing unprecedented rainfall and leaving a trail of destruction across the country. The macroeconomic impact of the storm, however, is likely to be limited given that the government's reconstruction spending should offset any decline in consumption in the areas affected.
While we expect the negative effect of the storms on the broader economy to fade, the string of natural disasters could sharpen investor focus on ESG and climate resilience. The desire to take some kind of action against climate change is likely to strengthen among both institutional and individual investors in Japan after they experienced the record rainfalls and gale-force winds. Japanese investor awareness of the climate and environment could increase to the levels of that of investors in Europe.
Such was the severity of the recent typhoons and flooding, that 2019 may come to be remembered as the year when ESG came to feature prominently on Japanese investor psyche.
Exhibit 3: Major Market Indices
TOPIX


JGB Yield


USD/JPY


Japan Equity Net Purchase from Overseas (JPY billions)


Source: Bloomberg, as at 31 October 2019
Exhibit 4: Major Index Performance, Indicators, and Valuation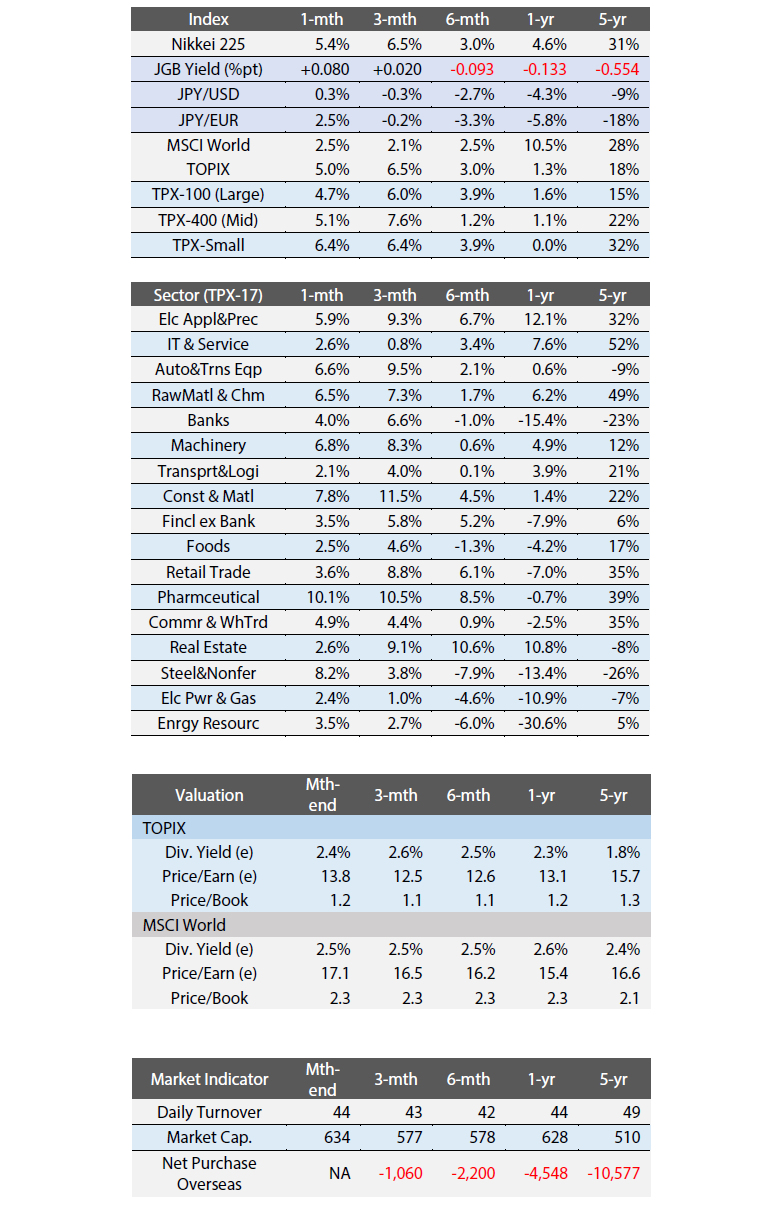 Source: Bloomberg, as at 31 October 2019
(e) stands for consensus estimates by Bloomberg.
Turnover and market cap in JPY trillions.
Net Purchase (JPY billions) from overseas is cumulative monthly.