Stocks rise with global peers, China woes linger
The Japanese equity market rose in November along with their global peers, with the TOPIX (w/dividends) rising 1.94% on-month and the Nikkei 225 (w/dividends) climbing 1.61%. Japanese stocks began the month higher on easing US-China tensions following reports that the US was considering lifting some tariffs against China. The market continued to rise after news that US and Chinese officials held additional talks on trade by phone, further bolstering hopes for positive trade developments. At the same time, stocks saw some periods of decline on increased risk aversion following the release of lower-than-expected economic indicators in Japan and other countries. Concerns over threats of retaliation from China also weighed on market sentiment after Washington passed a law supporting Hong Kong's pro-democracy protestors. Of the 33 Tokyo Stock Exchange sectors, 22 rose, including Securities & Commodity Futures, Precision Instruments and Other Products. On the other hand, 11 sectors declined, including Oil & Coal Products, Rubber Products and Electric Power & Gas.
Exhibit 1: Major Indices (Last Month and Historic Changes)

Source: Bloomberg, as at 29 November 2019
Exhibit 2: Nikkei 225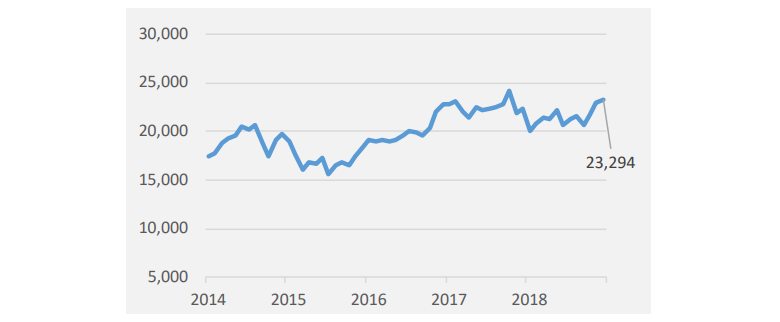 Source: Bloomberg, as at 29 November 2019
Harvesting the fruits of Abenomics
In November, Shinzo Abe became the longest serving Japanese premier in history. Investors strongly approved of Abe's economic policy as it was grounded on a stable political foundation in contrast to the preceding years of uncertainty caused by a succession of short-lived leaders.
Given that Abe has been in power for seven straight years, his administration has little scope to be innovative as most of the promising policy ideas have already been tested. Measures during the remaining two years of his current term are thus likely to be aimed at reinforcing economic cycles. We therefore do not expect the economic growth rate to change dramatically, even as Abe prepares one of the biggest stimulus packages of his tenure.
Abe has also made a mark on monetary policy. BOJ Governor Kuroda, whom Abe appointed, has attempted unorthodox methods to reach a 2% inflation target. But the inflation goal remains elusive, in our view. Instead, it will require a steady increase in global aggregate demand to attract foreign investors (who have a knack for detecting price uptrends) to Japan and push up domestic inflation. We expect the VAT hike impact to fade by 2H 2020. Then it will be time to harvest the fruits of Abenomics if global aggregate demand is still intact.
IMF's advice to the BOJ
The IMF advised the BOJ in November to make its 2% inflation target more flexible by adopting a target range. In reality, reaching an inflation target no longer appears to be a key priority for the BOJ. But the IMF's advice highlights two problems the BOJ's monetary policy is facing.
First, the BOJ is increasingly finding it difficult to impact prices no matter how much money it prints under QQE, even when the real economy is growing. This is because the BOJ, in our view, cannot control public perceptions, and low inflation expectations are well entrenched. Eventually, the BOJ might have to make its inflation target a more flexible goal.
Second, the BOJ is faced with the perception that its ultra-low interest rate policy is hurting banks' earnings and the broader economy. But it can also be argued that banks are struggling because there are simply too many of them. The BOJ appears undecided between validating its role by expanding QQE to reach the inflation goal, or addressing the side effects of negative long-term rates—a phenomenon that has persisted for too long.
Exhibit 3: Major Market Indices
TOPIX


JGB Yield


USD/JPY


Japan Equity Net Purchase from Overseas (JPY billions)


Source: Bloomberg, as at 30 November 2019
Exhibit 4: Major Index Performance, Indicators, and Valuation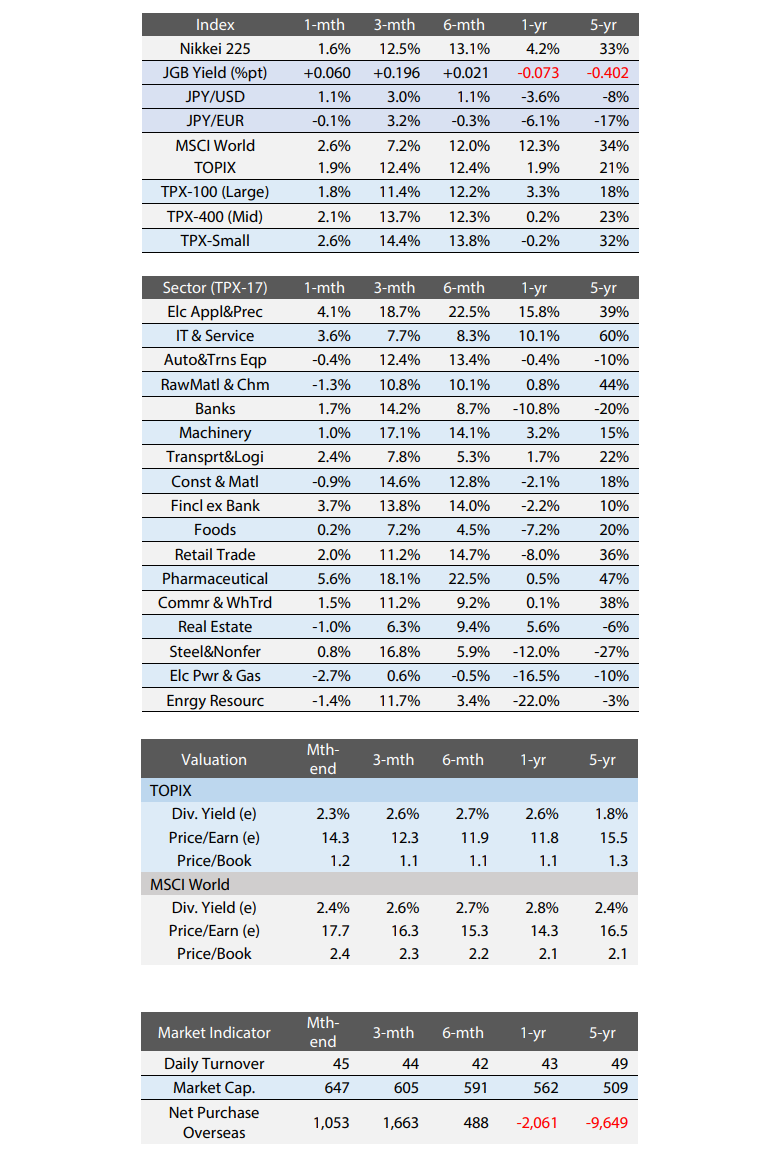 Source: Bloomberg, as at 30 November 2019
(e) stands for consensus estimates by Bloomberg.
Turnover and market cap in JPY trillions.
Net Purchase (JPY billions) from overseas is cumulative monthly.