Key points
We have a positive outlook for Singapore equities in 2020, with a recovery in corporate earnings growth, attractive valuations and accommodative policy conditions to drive returns.
We favour sectors with positive fundamental changes in earnings and restructuring such as industrials, property and technology.
Lastly, we continue to advocate dividend investing, particularly in growth compounders which offer an attractive total return proposition.
A stronger narrative to drive returns in 2020
We are more constructive on equity returns in Singapore for 2020, as we see improved growth prospects led by a recovery in global capital expenditure conditions, a gradual decline in geopolitical tensions and macro policies continuing to draw support. We see the weak GDP growth bottoming out, potentially reversing the trend in downward corporate earnings revisions witnessed since early 2018. We expect corporate earnings in Singapore to stabilise in 2020 before improving further in 2021. The positive trajectory in earnings growth should be an upside surprise against market consensus; it may also lead to a multiple expansion in the equity market, where valuations currently sit at the low end of its historical range.
From a bottom-up perspective, we remain optimistic on stock selection and believe companies and sectors most leveraged toward change in positive earnings growth will fare the best over the next 12 months. We favour industrials, technology and select consumer and financial companies. We also remain positive on corporate restructuring in Singapore. We are overweight in select industrials, where we expect positive catalysts in shareholder value creation.
We see a stronger narrative for Singapore's growth to return in 2020 and drive equity markets. Global growth is bottoming out, and we expect a broadening growth recovery in 2020 for Singapore, where GDP growth should pick up from the currently expected 0.5% year-on-year (YoY) growth in 2019. We expect some partial deal between the US and China to support the recovery of manufacturing and exports in 2020, which should also see a strengthening of Singapore's service exports in the areas of financial services and tourism.
Singapore's open economy and exposure to global trade will get some support from a global macro-economic recovery. This should enable overall corporate earnings growth to stabilise from the current 3–5% in 2019 to mid-to-high single digit growth in 2020 and 2021. More significantly, earnings momentum, which has been on a downward trend for most years since 2012 with the exception of 2016–2017, looks to be reversing. While we do not believe a sharp rebound (as in 2017) is likely, the stabilisation of earnings in 2019–2020 should offer a potential inflection point with earnings growth surprising and multiple expansion taking place.
Chart 1: Singapore earnings revision count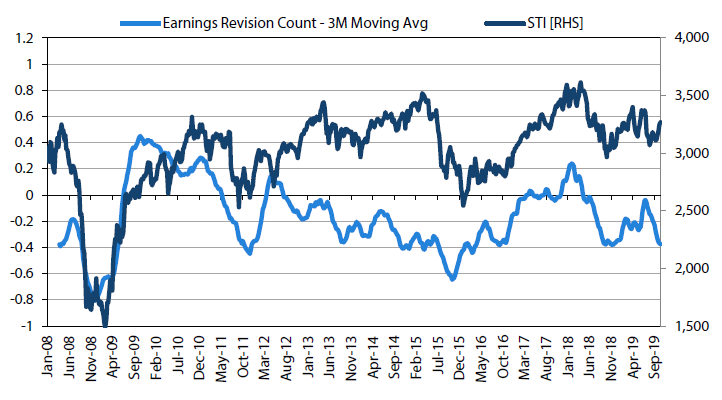 Source: DataStream, Citi Research
Our 2020 stocks convictions centre on positive fundamental change
Positive fundamental change is likely to be the key driver of returns in 2020. And we see two strong conviction areas within this theme. The first comes from companies exhibiting positive change in earnings growth and acceleration arising from either cyclical factors or idiosyncratic drivers. The second pertains to companies in the process of positive fundamental change in corporate restructuring efforts to unlock and create value and raise overall shareholder returns.
We favour rotation towards global cyclical areas such as industrials, technology and property in 2020. Cyclical growth indicators are starting to bottom out and troughs already witnessed in 2015 and 2016 provides an assuring historical backdrop for equity returns. In particular, selective growth cyclical sectors, such as property, consumer and technology, look attractive and well-leveraged to the recovery.
Chart 2: NODX – lead indicator for STI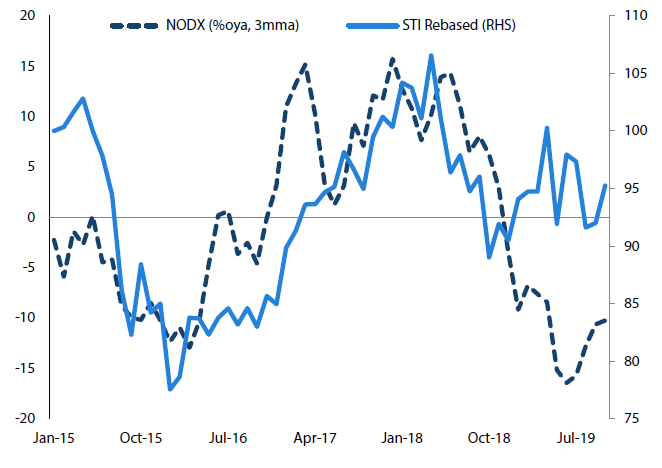 Source: JP Morgan
Chart 3: Recovery in Singapore PMI and Industrial Production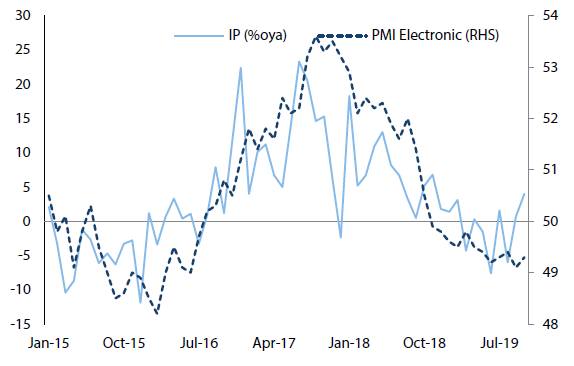 Source: JP Morgan
We believe corporate restructuring in Singapore will remain active and drive outperformance. An acceleration in corporate action in the form of privatisations and mergers and acquisitions (M&A) was witnessed in 2019. We believe change resulting from corporate restructuring is a positive. Corporate action can create better returns for shareholders, and we expect to see equity market momentum being retained in 2020.
In terms of sector selection, we are overweight in selective industrials, technology and consumer sectors. In industrials, we see positive catalysts from the following factors: improvements in momentum orders, international business profitability, strategic restructuring efforts to improve capital allocation and better recycle earnings. In technology, we see greater evidence of the global stock building cycle. Furthermore, the rise in global PMI in recent months encourages growth in the sector's foundations and also points to a potential rebound in demand for various technology sub-sectors. In property, we are overweight property developers and are more selective in real estate investment trusts (REITs) due to their less attractive growth and valuations. We remain underweight in transportation and telecommunications because of their poor earnings growth outlook.
More selective on dividend stocks
We continue to advocate investing in dividend stocks in 2020 as a core investment strategy. Dividend investing served us well again in 2019, with key high-yield sectors like REITs outperforming general equities for the sixth consecutive year. In 2020, we see reduced scope for lower interest rates and long-bond yields as key performance drivers for dividend stocks. But with recovery in global growth expected to be relatively measured, we do not expect long-bond yields to go through a 2013 taper tantrum-like shock.
In our stock selection, we are mindful of the relatively less attractive valuations offered by dividend sectors such as REITs. As such, we advocate a more neutral allocation strategy and a stock selection process that is focused on growth compounders. In a nutshell, growth compounders offer sustainable and consistent dividend growth, and they are an attractive total return proposition. These are primarily REITs, business trusts and dividend stocks—all of which are beneficiaries of robust medium- to long-term growth in sectors such as data, logistics, tourism and infrastructure.
Policy support, low expectations for earnings growth and attractive valuations
We see a supportive equity backdrop for policy conditions, earnings growth expectations and valuations in 2020. Policy conditions remain accommodative with interest rates and bond yields likely to remain low, making carrying opportunities in fixed income less attractive compared with equity returns. In short, Singapore's equity-bond yield gap currently favours equities.
Chart 4: STI vs STI dividend yield less 10-year Singapore Government Securities (SGS) yield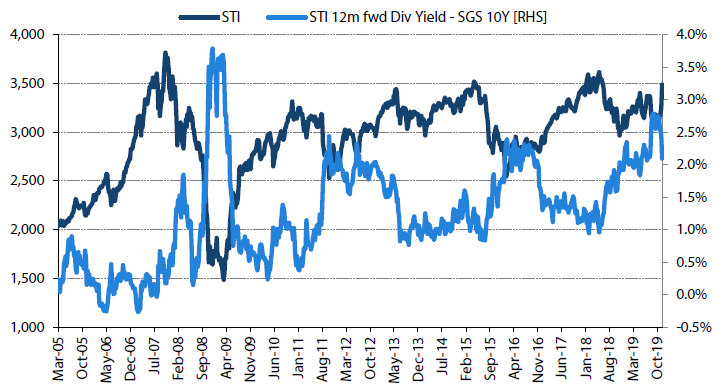 Source: DataStream, Citi Research
We saw consensus earnings reduced by over 500 bps in 2019 to 3–5%. We expect the region's consensus earnings outlook to remain at a cautious 3–5% for 2020. Incoming data for 4Q 2019 should remain weak, but we believe that earnings growth in 2020 will bottom out in 2020 from the current 3-5%, especially if the global business cycle improves and US-China trade tensions ease. We see potential signs of an upside surprise from a better technology cycle and industrial capital spending conditions recovering from current depressed levels.
Chart 5: EPS growth and PMI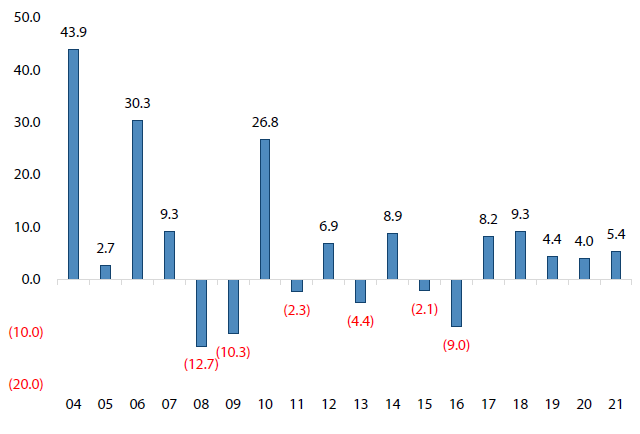 Source: MSCI, Datastream, IBES, JP Morgan
Valuations are invariably linked to earnings expectations. Today, the Singapore market trades at a price earnings ratio (PER) of below 13 times, slightly lower than its historical average of 13–14 times. Imbedded within valuations is a lower outlook for earnings expectations in 2020 (with a growth of 3-5%). With earnings outlook for growth in 2020 relatively conservative and valuations below 13 times (at a historically attractive level), there is potential upside from multiple expansion if returns on equity (ROE) and growth are greater than expected. At 4.5%, dividend yields in Singapore also stand out in the region, backed with steadily rising dividend pay-outs and improvements in corporate free cash flows.
Chart 6: STI's 12-month forward PER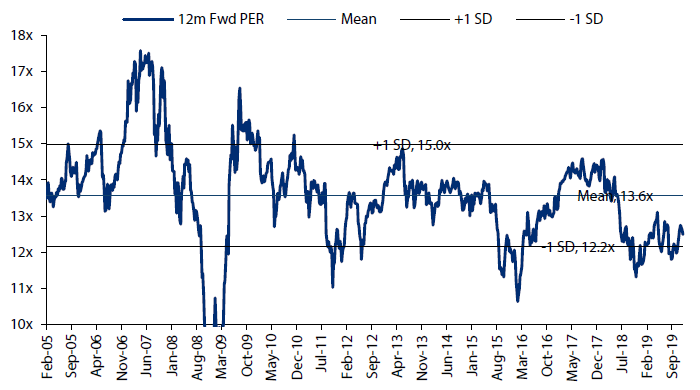 Source: DataStream, Citi Research
Summary
We have a positive outlook for Singapore equities in 2020, with a recovery in corporate earnings growth, attractive valuations and accommodative policy conditions to drive returns. We are most positive in sectors with positive fundamental changes in earnings and restructuring, notably industrials, property and technology. Lastly, we continue to advocate dividend investing, particularly in growth compounders which offer an attractive total return proposition.