Japanese equities slip in January
The Japanese equity market declined in January, with the TOPIX (w/dividends) falling 2.14% on-month and the Nikkei 225 (w/dividends) dropping 1.90%. Stocks began the period lower after a top Iranian general was killed in a US air strike, which ratcheted up tensions in the Middle East. The market subsequently recovered once US President Donald Trump stated that the US does not intend to use military force against Iran, easing geopolitical concerns. Relations between the US and China also saw a positive turn after the two countries signed a first phase trade agreement, spurring expectations for further progress in trade negotiations. Toward the end of the month, however, the new coronavirus began to spread outside of China, prompting concerns that a wider outbreak could negatively impact the global economy. Stocks lost ground as a result, ending the month lower. Of the 33 Tokyo Stock Exchange sectors, 5 sectors rose, including Real Estate, Securities & Commodity Futures, and Other Financing Business, while 28 including Marine Transportation, Mining, and Non-Ferrous Metals, declined.
Exhibit 1: Major Indices (Last Month and Historic Changes)

Source: Bloomberg, as at 31 January 2020
Exhibit 2: Nikkei 225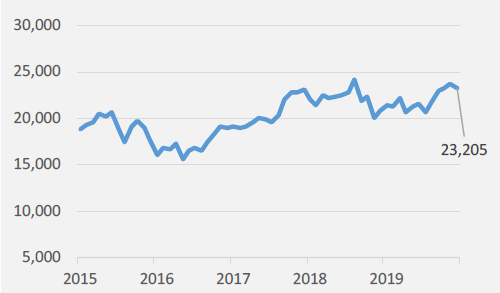 Source: Bloomberg, as at 31 January 2020
Potential market risks as 2020 kicks off
Japanese equities started 2020 on a relatively stable footing, with the Nikkei Stock Average briefly approaching a post-bubble era high of 24,448 touched late in 2018. We expect the Nikkei to eventually top that peak and reach 26,500 towards the year-end. Factoring in to our outlook are reduced US-China trade tensions, a weaker yen and a stable US economy. At the same time, we see a potential source of market volatility in this year's US presidential election. The impact of President Trump's economic policies has not been particularly strong and his re-election is not guaranteed. In a bid to gain electoral support, he may feel compelled to take drastic steps—such as re-igniting a tariff spat with China or intervening militarily in the Middle East—which could result in market volatility.
More Japan-specific market risks include the possibility that the economy will require a lengthy period to recover from last year's VAT hike. The spread of the coronavirus, heightened tensions in the Korean Peninsula and a drop in the supply of oil due to military action by Iran are other potential risks. The coronavirus, for example, could continue to spread, leaving an even deeper market impact. But at this juncture we don't expect the outbreak to have enough of a macroeconomic effect that it forces us to alter our forecasts for the year-end.
Ghosn's great escape and corporate governance
The dramatic escape by ex-Nissan chairman Carlos Ghosn from Japan to Lebanon, while facing charges of financial wrongdoing, naturally put Japan's judicial system in the spotlight. But his stealth departure in December also brought attention to the country's corporate governance at a time when governance reforms in Japan have resulted in greater dialogue between companies and shareholders. As shown in recent reports, the reforms have resulted in investors such as activist funds launching a greater number of campaigns and deploying more capital.
Ghosn's escape has spurred debate about the level of compensation Japan's top corporate executives receive, which on average is seen as low relative to their foreign peers. The initial point of focus was Ghosn's salary, which was considered high—even exuberant—by Japanese standards. But the focus is now moving beyond Ghosn's paycheck to considerations of providing Japan's executives with appropriate incentives to increase corporate value. The Ghosn saga has added a topic of discussion to the "purposeful dialogue" corporations and traditional, domestic investors are tasked with carrying out under corporate governance reform. Hopefully this leads to Japan's executives receiving enough incentive to encourage them to increase corporate value.
Exhibit 3: Major Market Indices
TOPIX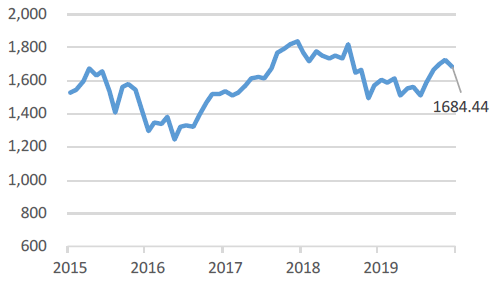 JGB Yield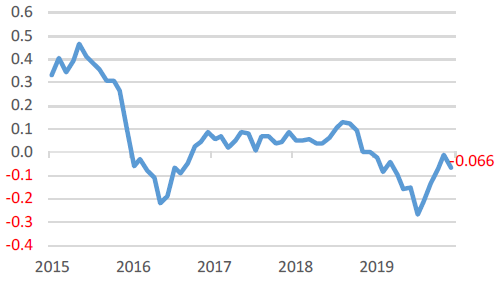 USD/JPY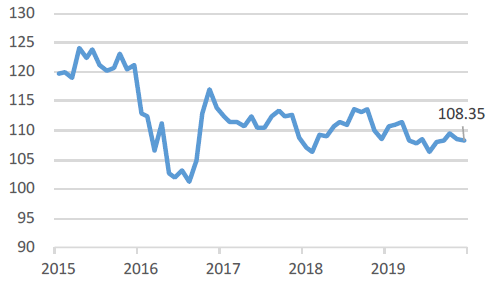 Japan Equity Net Purchase from Overseas (JPY billions)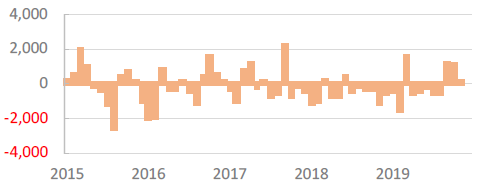 Source: Bloomberg, as at 31 January 2020
Exhibit 4: Major Index Performance, Indicators, and Valuation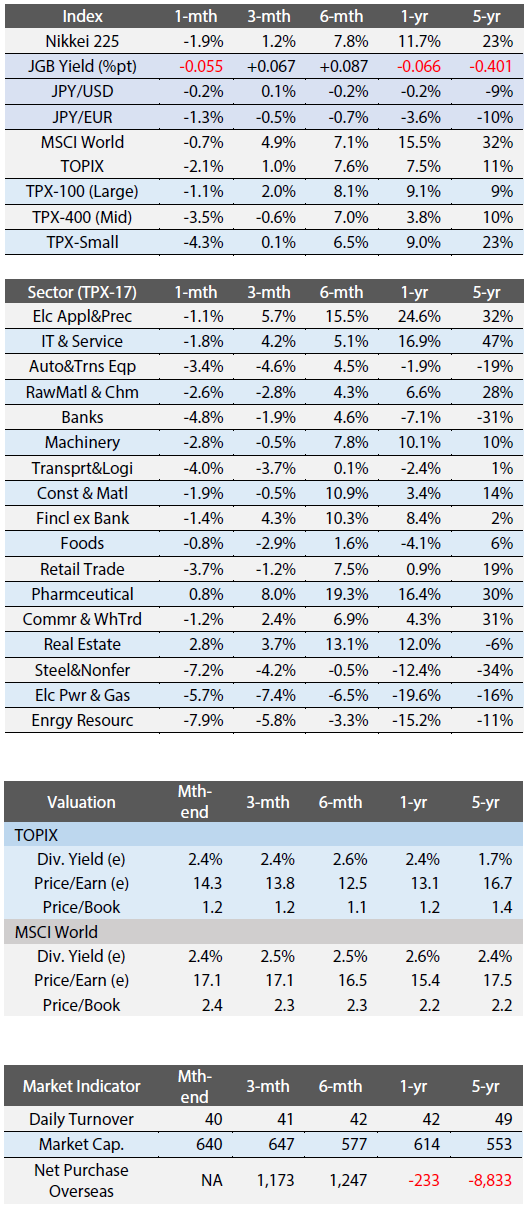 Source: Bloomberg, as at 31 January 2020
(e) stands for consensus estimates by Bloomberg.
Turnover and market cap in JPY trillions.
Net Purchase (JPY billions) from overseas is cumulative monthly.