Japan equities mixed and bound in range
The Japanese equity market was mixed in June, with the TOPIX (w/dividends) declining 0.19% on-month and the Nikkei 225 (w/dividends) rising 2.01%. Stocks were supported by a number of positive factors, including better-than-expected jobs data from the US as well as the Bank of Japan signalling that it would continue large-scale monetary easing measures, which spurred a more positive outlook for the economy. Nevertheless, the market largely moved sideways amid concerns over the yen's rise against the US dollar given declining US long-term interest rates as well as worries that a possible second wave of COVID-19 could delay an economic recovery as new infections began to rise again in the US and elsewhere. Of the 33 Tokyo Stock Exchange sectors, nine sectors rose, with Information & Communication, Other Products, and Electric Appliances posting the strongest gains. In contrast, 24 sectors declined, including Mining, Land Transportation, and Air Transportation.
Exhibit 1: Major Indices (Last Month and Historic Changes)

Source: Bloomberg, as of 30 June 2020
Exhibit 2: Nikkei 225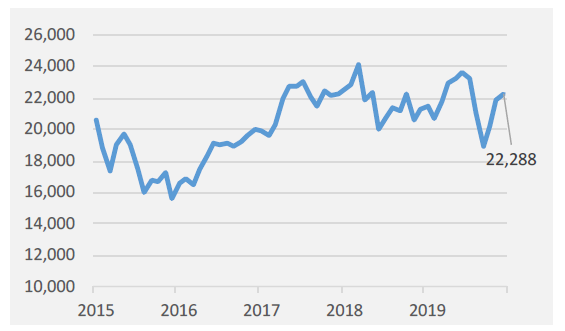 Source: Bloomberg, as of 30 June 2020
The disconnect between stocks and the economy
A perceived disconnect between stock prices and the economy has developed in many countries, including Japan. The Nikkei Stock Average fell to more than three-year lows in March on the back of the novel coronavirus pandemic fears, but it has since rebounded roughly 35%, even while the country has slipped into recession.
We do not find this gap surprising, as stock prices and the economy are fundamentally different. A disconnect between the two will often exist, as equity prices reflect market expectations of future economic conditions. The market is currently pricing in a relatively quick economic recovery, with extensive fiscal policies providing support for individuals and businesses until demand begins to return. This is a pattern unfolding in most major economies.
In Japan, government subsidies have been slow to reach individuals. This can lead to a lag in consumption compared to a country like the US, which has been quicker to complete its payouts. Rather than being spread out over a period of time, Japan could see demand concentrated in a shorter span due to delays in subsidy payments. A burst of concentrated demand could temporarily exacerbate the gap between stock prices and the economy, potentially resulting in a frothy market.
Economic impact of the plunge in tourism
According to the Japan Tourism Agency, the number of foreign visitors plummeted 99.9% to 2,900 in April as a result of tighter travel regulations adopted in reaction to the coronavirus pandemic. While these are shocking figures, the overall impact on GDP will be limited, in our view. Demand generated by foreign tourists was certainly a big help, but not something Japan's economy was ever reliant on; exports of machinery and parts continue to make a much larger contribution to Japan's GDP.
We highlight two economic aspects of the disappearance of foreign visitors: the effect on the retail sales sector and the role of domestic tourism. Not surprisingly, retail sales have been hit hard. But some sub-sectors, such as those that cater to the stay-at-home crowd, have done unexpectedly well. The plunge in tourism could even become a catalyst for the retail sales sector to become more efficient. A dearth of foreign tourists also means that domestic tourists could fill part of the void. International travel restrictions will force many Japanese to cancel overseas holidays; they could instead opt for domestic destinations. The government's travel boosting policies are likely to play a role, with its "Go To" campaign expected to nudge travelers to visit destinations within Japan.
Exhibit 3: Major Market Indices
TOPIX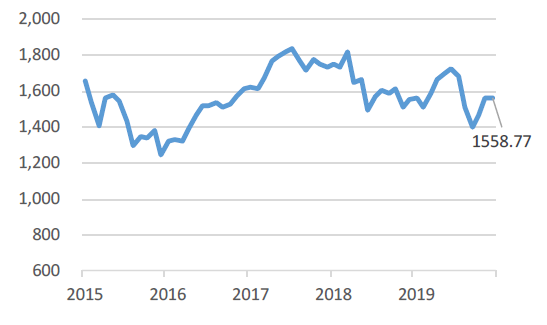 JGB Yield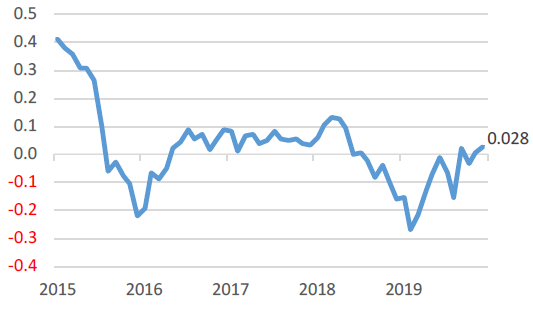 USD/JPY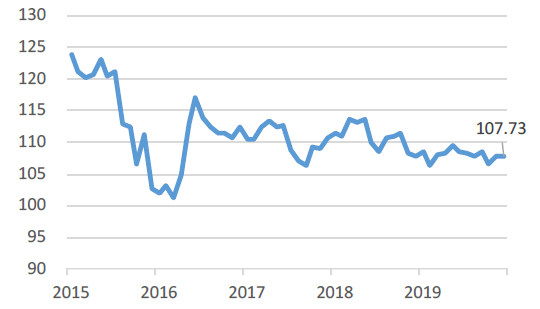 Japan Equity Net Purchase from Overseas (JPY billions)


Source: Bloomberg, as of 30 June 2020
Exhibit 4: Major Index Performance, Indicators, and Valuation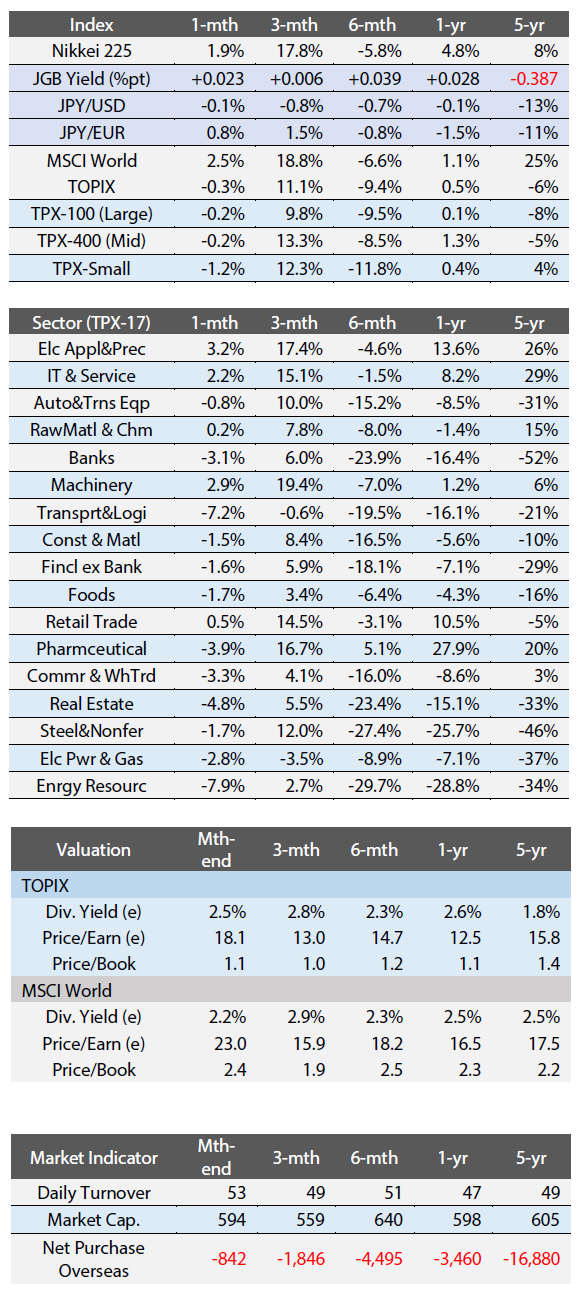 Source: Bloomberg, as of 30 June 2020
(e) stands for consensus estimates by Bloomberg.
Turnover and market cap in JPY trillions.
Net Purchase (JPY billions) from overseas is cumulative monthly.